Sri Lanka's record breaking high jumper Manjula Kumara embarked on another chapter in his life when he commissioned his official website www.manjulakumara.com on September 24 at the Grand Oriental Hotel Colombo.
The high jump maestro, who was born in 1984 in Morawaka, had his early schooling in Kosnilgoda Junior School where his principal and coach Jayakody spotted his talent and got him into Vijith Central College. There he was taken under the wing of Coach Keerthi Kumara, a move that changed his whole life. Taking a special interest in the young athlete, the coach helped nurture and father him to international level.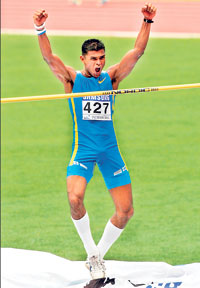 Manjula Kumara
Kumara broke the Sri Lankan record in 2004 clearing a height of 2.27 and his moment of glory soon followed when he brought his country a 'Gold 'in the Asian Championships in 2005 clearing the bar with a height of 2.27m. It was a magnificent feat from a Sri Lankan athlete who showed his prowess to the world.
His invaluable break arrived when his long time benefactor and mentor Nagalingam Ethiriveerashingham, former national Olympic high jumper and medalist obtained him a scholarship at the University of Southern California USA where he went under the tutelage of Michael Pullns.
Sadly, the high-jumper sustained a nasty ankle injury in 2006, and was forced to stay out of active competition for more than 1/12 years. During this time he concentrated on getting himself a Bachelor's Degree in Economics and began training once again. Monetary difficulties continued to be a factor and with tremendous sacrifice; saving on allowances to maintain his parents back home, he continued to thrive in the USA. Heavy criticism was piled upon him for some poor performances, yet the versatile victor overcame all odds to bring Sri Lanka Gold in the Asian Championships held in China in 2009 and remained a top seed for high jump in Asia.
The high jump champion, now lives in Colombo in a house bequeath by the People Bank, and is furiously training under Coach Hugo Mousz and his ever faithful Keerthi Kumara. He is a firm favourite to keep the Sri Lanka flag flying at the Commonwealth Games in New Delhi starting October 3 and Asian Games.
At the recent Asian All Star Games in Delhi in July, Manjula jumped a 2.21m, under inclement weather to gain first place and that jump was beyond the last year's Commonwealth Games winning height. Therefore Sri Lanka is excited about the Manjula Kumara prophesy in the impending Commonwealth Games.
The website will also serve to promote the Manjula Kumara foundation which will continue to aid the high jumper in the cause of running for the Olympic medal and thereafter Manjula and his benefactors will turn the foundation open to all potential high jumpers.
Lets all lend a hand to taking him and the nation to dizzy heights. Manjula Kumar Committee &ThePapare.com