It's back to Test cricket after the slam bang approach of the shorter version. The Indians are here once again to do battle in Tests. Mind you at the end of the series which will be the first week of August, the two teams would have played six Test matches in a matter of nine months! I wonder whether either India or Sri Lanka would have ever had so many engagements with another nation in such a short span! Maybe its becoming a bit too predictable and could be stale to the players and the public too.
The Test series in 2010 would amount to a crucial phase in Test cricket for the Sri Lankans. This would be for two reasons. Firstly it would see the end of an illustrious career of one of Sri Lanka's greatest cricketing sons, Muthiah Muralitharan!
Having played International cricket for almost two decades Murali, as he is fondly known, would want to bow out on a high and one way of doing it is to reach the magical 800 wickets and the other is to force a victory for Sri Lanka. However only the events which will unfold during the game will stand to decide the final conclusion and let's hope it will be memorable for Murali and a fitting finale to him.
But that apart Muralitharan will be remembered for his unparallel record and the humiliation he was subjected to and of course the manner he overcame them all! His act will be a very hard one to emulate and one wonders whether any bowler would ever get close to these phenomenal deeds! Especially with so much of cricket being played at present the bowlers in particular would be the ones hard pressed to maintain themselves free of injury and therefore it is questionable as to whether any one bowler would be able to carry on long enough to get close to the 800 wicket mark.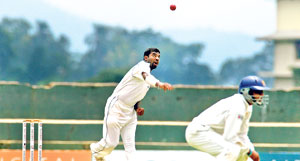 Muralitharan's illustrious career is coming to an end
Besides the retirement of Murali, the series will turn out to be a whole new era for Sri Lanka cricket! i.e the post Muralitharan era! Looking back one could recall the days when Sri Lankan bowling was only Murali and Vaas. And without the bowling of the said duo, the Lankans were no match to any opposing batsmen. Hence many bating records were set up against the Lankan bowling, though the situation has been reversed largely due to the great commitment and expertise of the bowling coaches who have been instrumental in Sri Lanka being able to hit back in that area of the game with some world class performers taking the field today.
However, the question that begs an answer is how would Sri Lanka cope with Test cricket in the future? This is an extremely interesting phenomenon which warrants a credible reply. First it was Chaminda Vaas who hung up his boots and now it's Muralitharan bidding goodbye after the first Test in Galle! On that topic I want to congratulate Murali for deciding to call it a day when people may be still asking him, "Why are you going" rather than "Why not?"
Back to the question of how would Sri Lanka cope without Murali? This again is something only the future would reveal. Maybe the remaining two Test matches against India could give us an indication, though its comforting to note that Sri Lanka has played Test cricket without Muralitharan in the past when injury plagued him and have also been able to do reasonably well even during his absence in the recent past.
Besides India hasn't won a series in Sri Lanka since 1993 either! But it will be the vacuum that Murali creates which will be tough for any single bowler to fill. Besides his huge ability with the ball the psychological advantage he brings in to the game which he holds over many batsmen around the world will not be lost on the very same players when they play Sri Lanka minus Muralitharan. Further batsmen in the international circuit are sure to breathe a sigh of relief and will not have nightmares when playing Sri Lanka as they had no clue when dealing with the spin of Murali.Though the evidence of the challenges in post Muralitharan era may be real and hard to accept all good things have to come to an end and Murali was definitely one of the greatest things that have happened to Sri Lanka cricket which is ending. It is a good decision that the Chairman and the Secretary of the Interim Committee are part of the organizing committee overseeing the arrangements of the Muralitharan farewell, ensuring that attention to detail is paid besides giving the hero a great sendoff.
And from a Sri Lankan cricketing perspective I must add that all is not lost. Though we may never find another Murali for another one hundred years, we certainly have Ajantha Mendis, Rangana Herath, Suraj Randiv, Malinga Bandara, Sachitra Senanayake, Seekuge Prasanna, Saranga Rajaguru, Rushan Jaleel etc all either proven quality or waiting in the wings to show their metal and the list can go on as the talent is enormous!
As any good manager will look to turn a disadvantage to his advantage, I believe it's up to the Sri Lankan cricketing think tank to now look at using the absence of Murali as an opportunity rather than a threat and blood and permit the potential players with sufficient exposure to ensure that the supply line is not dry.
But as for Murali it's a big thank you for the entertainment. You will definitely be missed!
* Roshan Abeysinghe is a leading cricket promoter and an international cricket commentator