Sri Lankan skipper Kumar Sangakkara and the Lankan team mean to hold their wits together during the next five days and are bent on giving their most senior player Muttiah Muralitharan the best farewell possible.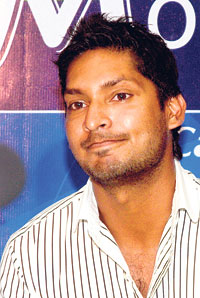 Kumar Sangakkara
"There are lots of things happening during the match and also after the game. But, we intend keeping our focus on the game and give Murali the best farewell possible," said the Lankan skipper Speaking to the Sunday Times.
The 38-year-old off spinner, will retire after the first Test match, in which he needs eight scalps to reach the unprecedented 800-wicket mark in Test cricket. Commenting on Murali's retirement Sangakkara said, "I think he has taken a timely decision to retire after the first game. It is only he who knows how his body mechanism works."
Barring the vagaries of weather it all points out to an interesting contest at the Galle International Cricket Stadium. After the Lankan team had their last practice session at the wickets last morning, skipper Sangakkara said, "I had a look at the wicket last morning and it did not seem fully dry and this means initially the wicket would help the seamers with spinners coming into focus by the fourth and fifth days. It has been raining sporadically in this part of the island and this may have an effect".
When asked about the options for tomorrow's game, the Sri Lanka cricket captain said they were looking at two options. The first option would be to go in with three seamers along with veteran Muralitharan or else have a look either at off spinner Suraj Randiv or left armer Rangana Herat to partner Muralitharan and include two seamers in the playing eleven.
In all probabilities the Lankan batting order should read namely – Upul Tharanga, T.M. Dilshan, Kumar Sangakkara, Mahela Jayawardena, Thilan Samaraweera and Chamara Kapugedera or Thilina Kandamby along with allrounder Angelo Mathews fitting in the allrounders slot.
Speaking further Sangakkara said, "In the past the Galle wicket has produced sporty wickets and we hope that there will be a good contest here. I have been lucky that I had the opportunity of playing along with the great threesome of Murali, Sanath and Vaas during my cricket career. Especially Muralitharan has been a very close friend of mine even off the field. However, there will be no other Muralitharan in the future and we will find another good off spinner to do the job. He may not take wickets the way Muralitharan did but, ones who are in line are capable bowlers who could take wickets at this level."
Sangakkara agreed that meeting the same opposition too often was not the ideal situation in Test cricket but added "Test cricket is the best form of cricket that I prefer to indulge in".
"There should be more Test matches played, but, at the same time there also should be enough breathing space in between. However this three-match series is going to be a close contest and we certainly are aiming to do well and try to enhance our status in the ICC ranking". Meanwhile the Indian camp says that they will not allow Muralitharan to retire with 800 Test scalps against his name.
His Chennai Super Kings teammate an Indian captain Mahendra Singh Dhoni whished good luck to the Lankan off spinner on his Test farewell, but reiterated that India is bent on keeping their ICC No1 ranking intact.
Speaking to the media Dhoni said "We all know Murali is a great bowler and his achievements speak for themselves. More importantly, he is also a great human being and I cherish his friendship.
"However, this is Test cricket and we do not intend to give our wickets easily. Our batsmen would like not to give him the opportunity to reach 800 wickets during the first Test."