Four pre-quarter final matches of the 58th National Billiard Championship were worked off at the Billiards and Snooker Association headquarters at Reid Avenue yesterday with two quarters being worked off in the morning and evening sessions.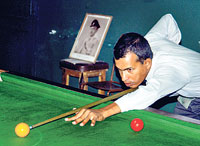 S.H.M.Aslam of MSC who beat B.R. Tilekeratne of BRC in action. - Picture by Ranjith Perera.
In the morning session veteran and a former national billiard champion W.A.J. Weerasinghe of AAC (who is over 75 years of age) recorded an easy victory over MICH's M. Farshad while a former runner up S.H.M. Aslam of MSC had little difficulty in overcoming Tilekeratne of BRC.
In the evening session the defending champion and the favourite to lift the title K.H. Sirisoma of SLPA did not put in all his effort to brush aside the challenge offered by MSC's Thasleem whilst in contrast Anil Rohana of Carlton SC underwent some anxious before getting the better of YMBA's Jayaratne. The pre-quarter final encounters will be continued with four games down for decision today starting at 11.00 a.m.