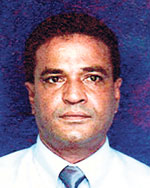 Michael Jayasekara
Sri Lanka Rugby Football Union (SLRFU) appointed their National Selectors who will have loads of work to be done from next month onwards. The Head of the committee would be former Thomian, Havelocks and Sri Lanka centre Michael Jayasekera. Jayasekera, an outstanding ruggerite turned out for S. Thomas' in 1976 and '77 and later represented Havelocks from '77 to '83. He represented the country from 1977-1981.
The rest of the members comprise from Former Trinity, Air Force and Sri Lanka Scrum Half Tikiri Marambe, and Former Trinity, Kandy SC and Double International (Basket Ball and Rugby) Pradeep Basnyake, Former Petrite CH and FC and Sri Lanka winger Chandrishan Perera and Former Thomian, CR and FC and Sri Lanka third row forward Savantha de Saram.
They will sit in to select the Under 20 Youth team for the Junior Asiad which will take place in Thailand from August 21-28. Further Imthisam Marikkar was appointed as the national sevens coach with Mothilal Jayatilleke as the Physical Trainer.
Sanath Martis was re- appointed as the Under 20 head coach for his hard work and the huge success with St. Peter's. Appointment of assistant coach is yet to be made. But it is very likely that Kingswood coach Nilufer Ibrahim would retain his place after the success shown during last year's Junior Asiad in Hong Kong where the side ended third out of 12 teams.