For nine years Chamath Dhanawansa served as an indispensable and central component in Sri Lanka's national basketball team, contributing tirelessly both on the offensive and defensive ends. In acknowledgement of his ability to dictate play and lead by example, Chamath was recently awarded the honour of captaining the country, bringing to fruition years of hard work and sacrifice.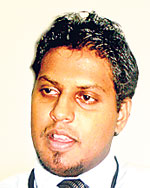 Chamath Dhanawansa
Chamath first discovered his love for the game at a very early age while playing for hours at the community basketball court in Police Park. He then joined the Royal College under 13 team and proceeded to exhibit the enviable skill and competitive edge he had by now successfully honed. The result was an illustrious journey through the school basket ball ranks, where apart from helping his team win Chamath also secured several Most Outstanding Player trophies.
"I started getting better and better and eventually was given the captaincy of the senior team. It was after this time that we went on to win the school championships," Chamath explains. By now Chamath, as well as those coaching him, had confidently identified that he was most effective playing at the point guard position. Here he could be the central strategic vein, the first person to dribble the ball on the attack, the playmaker.His quality was soon identified by the national selectors and upon leaving school he was absorbed into the national team at the age of just 19. Back then the team was being captained by Faisal Mohammed and Chamath used to come in off the bench, but gradually he began to cement a position in the starting five.
"I kept working and sacrificing, always trying to improve and get better. I also watched other players carefully and someone I really liked watching was Duke Rajapakse. Like me he plays in the point guard position but he has his own exciting style of play. From the NBA (National Basketball Association) my favourite player is Dwyane Wade," Chamath says.
Chamath's appointment as captain reaped immediate reward recently when he was able to lead the side to a third place finish at the India South Zone tournament. The competition featured some of India's best state teams and Chamath explains that their finish is one of their best for the past four years.
"We play well but the one big problem we face is our lack of height. The tallest player we have is about 6'6 while the teams we play against usually have 7 footers and an average height of 6 feet or over. When we shoot against them we have to adjust our shots, something we are not used to doing," Chamath explains.
He asserts that one sure way Sri Lanka can be successful on the international stage is if it changes its pattern of play. He also suggests that Sri Lanka play more international matches annually so that they have a chance to adapt and improve. Another way Chamath lists to raise the standard of the local game is to introduce foreign players into the local leagues.
Besides playing for the national team, Chamath is also the captain and star point guard for the Sampath Bank side and the Carlton Basketball Club. Sampath is currently the defending Mercantile Basketball Champions and has been so for the past few years, dominance Chamath hopes to recreate for his club.
"It's tough sometimes finding time to play and practice. That is the main problem for Sri Lankan basketball players. It is not a sport that can sustain you financially so you have to work and only afterwards are you free to go practice," Chamath explains.In contrast, Chamath says teams like China and Australia get paid handsomely and as such their preparation before a tournament is much more intense and focused.
"At the end of one game of an Asian tournament we were talking to the Chinese coach and he said his side had been in training for nearly the whole year leading up to this competition. We on the other hand were only able to practice for three months," Chamath laments.
However Chamath is optimistic about the talent he sees on the island and says that basketball is generating steady interest in the country. The important thing, he assesses, is for young players to keep working on their games, the ball handling and shooting in particular for those aspiring to play at the point position.
With future Asian and perhaps world tournaments looming Chamath remains confident at his team's chances for success, and with a player as skilled and determined as him leading it one can find little reason to doubt him.