Last week Roshan and Iroma Deen celebrated their 25th Wedding Anniversary. Roshan is a well known personality in rugby circles as a player, referee, council member and stalwart of Havelock's Sports Club. Iroma is also known as a sporting personality having excelled in playing netball and taking part in athletics.
Havelock's to whom Roshan belongs most of the time is a club with rich traditions, camaraderie and is known to be a family hub. Out of the 25 years of married life Roshan would have spent a considerable time as a family watching rugby together or at Havelock's Sports Club associating with enthusiasts of the game. This is a family whose love is rugby and Havelock's Sports Club.
This was amply confirmed by the attendance of many rugby stalwarts at the function to celebrate the 25th anniversary. Yet it was indeed sad news that I learn a few days after: Havelock's will not be participating in the Clifford Cup knock out tournament this year. Thus will this club with almost a hundred year history which has a tradition and has produced many a champion team and player and provided opportunity to foster brotherhood through Rugby Football. They face consequences that one may not want a club with a proud rugby history to undergo.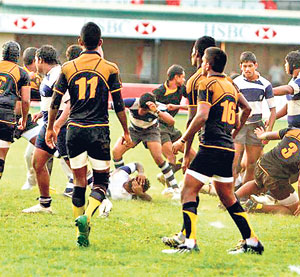 Violence at Rugby matches is common place now
It was last week that I spoke of rugby and economics and mentioned about the need for equal distribution of talent. Or else the competition will drop and so will sponsors, possibly taking some traditional teams down the drain. Is the plight of Havelock's a sequel of non equal distribution? What is true of Havelock's may soon be true of possibly CH. Two clubs who seem to be losing players.
The question will be whether they will follow Peterson and Old Zahirians who never raised their heads to keep above water. Thus I believe this is a serious issue to be addressed not only from the club point of view but also from the national perspective of the game. Professionalism or at least semi professionalism is good and welcome. Yet it should not be a destructive force to the detriment of the game. What is important at this point is for the main body to look at the possibility of revenue and player distribution to help clubs that are in difficulty. Rugby is a game people enjoy as a spectator sport of the family.
As we talk of keeping the sport alive to become stronger we hear of wretched news form the schools section. What we saw at the Schools Knock-Out tournament is not an isolated event that propped up suddenly. It is the culmination of a series of events that have taken place and not been adequately handled. It is a result of the school section not taking adequate steps to provide security for a match that needed much tighter control. Matches between the two schools Isipathana and St. Peter's have always generated interest with a huge section of supporters in attendance. I have in the recent past talked about the interest and the thrill that school rugby is providing. I have been saying of how more interesting the game is compared to the club game. Yet having to abandon a match is not the best thing that could happen to the game. People do fancy a side when they come for a match. When they become fanatical it is time to take note and act to preserve the game. Whether you say it was stopped due to hooligans, uncontrollable supporters, fanatics or maniacs is not the answer. It did happen and it is bad.
The reason or the process that led to the situation is not the question but the outcome which is disastrous. A question that baffles and requires answers is why there was no meaningful attempt to get the match started. It looked a mere farce as masters from other schools that were alien to the crowd were seen appealing. Dispatching persons from various other schools to appease a taunted spectator group was not practical.
Since I have seen adequate coverage of the incident and the law applicable written in news reports following the issue it is not my task to talk about the law or the refereeing angle. But to stress on the need to be disciplined and to respect victory or defeat that may stare at your eyes. Remember these are schoolboys and the future of the society. If they are not corrected but are directed does it amount to child abuse?
On the other hand as I said when I started the article rugby has been a game that gave opportunity to be a place for family and friends to meet. At school or good club match you will see more numbers than at a cricket match of similar level. If violence continues and there is a tendency to use abusive language and or be activated by excessive alcohol; the future does not seem to be very good. Is this all because of a need to win a trophy or head a league in school rugby? I understand there have been informal talks to revive the old system of playing traditional opponents and to have trophies for selected matches and enjoy the spirit of the game. The game that has been spread to around 80 schools will then suffer. All because of a misguided few who believe violence is the answer to solve issues.
*Vimal Perera is a former Rugby Referee, coach and Accredited Referees Evaluator IRB