There are legions of great and talented sportsmen and sportswomen that Sri Lanka or Ceylon (As it was known then) produced. Exceptional individuals whom most countries would be proud to call their own. Among them the name of Dr. Barclay G. Reid affectionately known as 'Buddy' stands out most prominently. Besides being vastly talented in becoming a double international in Cricket and Table Tennis, he went on to Captain All Ceylon in both these sports, a feat which is rare by any standards.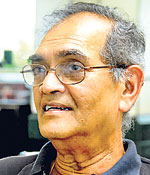 Dr. B. G. Reid
The eldest of the Reid brothers Claude, himself a prominent Cricketer had a great influence on 'Buddy' taking to the game, which he did from U-10 upwards right up to representing St. Thomas' College 1st eleven. In fact 'Buddy' became an opening bat by sheer accident when he found himself almost not being included in the U-12 College side and coach Lassie Abeywardene said that there was only one vacancy in the team and that was for anyone who dared to face the new ball.
'Buddy' promptly raised his hand and from that moment a future All Ceylon opener was born 'Buddy' was able to represent St. Thomas' only in 1959 under Dennis Ferdinands as on the morning of the Big Match against Royal, he received a letter saying that he was eligible for admission to Medical College. This put paid to his college cricketing career and that was the only Royal-Thomian Cricket Match that 'Buddy' was destined to play.
Entering the Medical Faculty 'Buddy' was an automatic choice to represent the Colombo University in 1960 under Dr. H.I.K. Fernando. Dr. H.I.K had absolute faith in 'Buddy's' exceptional talents and knew that someday he would come good. 'Buddy' in turn reciprocated Dr. H.I.K's immense faith in him and went on to score the top score of the season in 1960 by notching up a giant 177 against Catemarans and obtained the Macan Marker trophy for the highest score of the Sara Trophy season of 1960 in the very first year of his University Cricketing Career. He also showed rare consistency by heading the Sara Trophy averages in the 62/63 Season under Dr. Carlyle Perera when the Colombo University went on to win the prestigious Sara Trophy. Then again 'Buddy' Captaining the Colombo University side in the 1963/64 Season, also went on to head the Sara Trophy batting averages.
Such outstanding talent was bound to impress the National Cricket selectors and it did when "Buddy' was chosen to represent all Ceylon against Bob Simpson's Australian team in 1964. The debutant did not disappoint the selectors and put up an unbroken partnership with skipper Michael Tissera of 68 runs in just 29 minutes thus underlying the class of these two great batsmen.
Another match saw All Ceylon Winning their first-ever unofficial test against Pakistan led by Imitiaz Ahamed in Pakistan. 'Buddy' was a proud member of this team and also the first team to beat England (MCC) in a 60 over where 'Buddy' and Ranjith Fernando put on 121 runs for the first wicket, Buddy scoring a polished 57 while Ranjith got 58.
An added bonus in this Match was when 'Buddy' led the country in the absence of Michael Tissera who pulled out due to ill health on the morning of the Match. 'Buddy' was also the Vice Captain of the University of Colombo team which won the Sara Trophy for the only time in 1962/63. 'Buddy' did yeoman service playing for All Ceylon from 1964 to 1971 in Cricket.
In Table Tennis too 'Buddy' continued to shine winning the National Men's singles title for a period of 3 years (1959,1960 and 1962). He also won the men's Doubles title six times, four partnering Nimo Ramchand and once with Charlie Daniel and once with his brother Barney. He also went on to Captain All Ceylon in Table Tennis at the Asian Games in Bangkok, the Asian T.T. championships in Singapore and the Peking International in China.
He also won the Victorian State Championship in 2007 in the Masters event and is also the current holder of the New Zealand masters title. However the icing on the cake was when 'Buddy' and Igor Klaf won the Silver Medal at the World Masters Championship in 2006.
Finally whenever the name of Dr. Barclay G. Reid is mentioned, it brings back fantastic memories of his great deeds both in Cricket and Table Tennis and it is improbable that the likes of him will ever grace the sporting arenas of Cricket and Table Tennis in Sri Lanka or elsewhere, certainly not in my lifetime