Playing a swift counterattacking and passing game, Pelicans SC, Kurunegala were able to secure a 2-0 victory in a bitterly contested Unique Premier League Division 1 football game against Maligawatte SC at the Sirisena grounds in Maligawatte.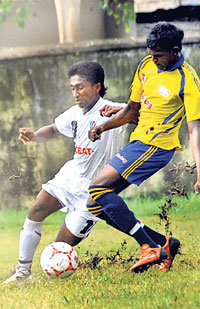 A Maligawatte player (in yellow) fighting for the ball against his opponent from Pelicans SC. – Pic by Sanka Vidanagama.
The two goal scorers for the visitors were Anton Ranjan and Nandasiri Ekanayake. Owing to the muddy field conditions and the refusal by either team to give away any easy possessions, the match saw a number of hard fouls which resulted in six yellow cards and several free kicks.
From the outset Pelicans was the more attacking of the two teams, threading neat balls in to the box that were inches short of being slammed into the net. Maligawatte too had their chances but were unable to produce the clinical finishing that their home supporters were unreservedly demanding. On the break, Pelicans always threatened.
Their fluent passes and constant strikes on target put enormous pressure on the home side, which was slowly beginning to wilt. The Maligawatte defense finally gave way in the 31st minute courtesy of another sweeping attacking move. Ranjan was left with an open net to aim at and he wasted no time in depositing the ball firmly into the back of the net.
This seemed to deflate the Maligawatte men even further and they struggled their way into half time without conceding another goal. The best chance of the second half for Maligawatte came in its opening minutes when a perfect cross whizzed into the box, but yet again there was no boot present to slam the ball home.
This was to prove the last chance Maligawatte would have of snatching an improbable draw as from that point onwards Pelicans SC pressed their foot on the accelerator and took over the match.
The dagger came in the 57th minute, when Nandasiri Ekanayake, unmarked in front of the goal, walloped in a shot that flew past the helpless goalkeeper and effectively brought an end to the competition.
Referee R.A Tharanga