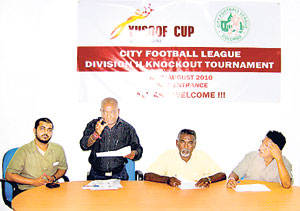 The organizers announcing the staging of the Yusoof Cup

.
The Yusoof Cup, a division two knockout tournament organized by the City Football League, kicked off yesterday with four entertaining matches and is due to continue until the August 7.
The draw for the list of fixtures was held last Wednesday at the City Football League complex at Slave Island. The teams playing Victory SC, New Sunrise, United SC, Sunny Mount, Black Square, Slave Island Eleven, Hemamulla United, Bodowita United, Moragasmulla SC, Colpetty United, Colombo Veterans, Eveready SC, Java Lane, Colombo SC, Kolons SC and York FC. The City Football League is the country's oldest football establishment.