The first semi final of the Under 20 Milo trophy inter-school knock out rugby tournament between St Peter's and Isipathana which was scheduled to be replayed from where it was previously stopped at Longden Place yesterday did not take place as expected.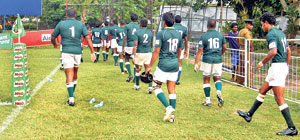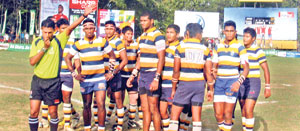 Referee Aruna Rankothge is seen awarding the match to St Peter's, while the pic. at the bottom shows the Isipatana team walking off. - Pictures by Ranjith Perera.
The Sri Lanka Schools Rugby Football Association (SLSRFA) the organizers of the tournament decided to award the win to St Peter's taking into consideration that the Peterites led 14-0 when the match was played on July 14 which was stopped after 27 minutes of play.
Denzil Darling secretary of the SLSRFA speaking to the media said that officials of the two schools were adamant with their own positions. St Peter's wanting to replay the match from where it stopped and Isipatana's request being to play a fresh game. The Peterites version was that it was no fault of theirs as it was the supporters of the other side that disrupted the game by throwing stones to the playing field, not once but several times.
The crowd became unruly sighting referee Priyantha Gunaratne who officiated on that day saying he made some decisions which were biased against one team. An official of the SLSRFA said that does not mean that they can disrupt the game.
The officials of the SLSRFA wanted to resume the match after 20 minutes but even then they began throwing stones which was beyond the control of the officials. The decision to stop the game was not taken by the referee, it was after a decision taken by the officials of the SLSRFA that he blew the long whistle which was his duty.Nevertheless it was a pathetic sight which put the game of rugby into shame by the unruly supporters. Darling said that the officials of the SLRSFA had an emergency meeting on Friday to take a decision at which the settlement was a replay from the stoppage which was agreed by the officials of the two teams.
Speaking on allegations regarding insufficient security measures that were taken on Thursday he stated "we had no problem when the quarter final matches were played and the discipline of the crowd did not warrant us bring in more. Unfortunately it was sad to see this happening as two prominent schools from Colombo were contesting."
Fr. Rector Travis Gabriel of St. Peter's whose team was awarded the win speaking to The Sunday Times said, "We don't want to take the win by force or illegally. "Firstly let me say the match being disrupted was not due to our fault.
"We were surprised when we came to the ground and were told that Isipathana had brought a letter and that they would only be playing a fresh game. They should have sent us a copy of that letter. We are disappointed".