The much awaited musical show STARS OF 70's will be staged on 17th July at the BMICH starting at 7.00pm. The show is presented by Annesley Malawana and organized by the Thurstan College OBU in aid of College development fund.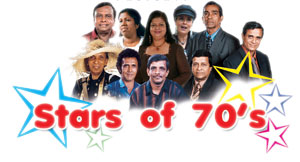 STARS OF 70's is the brainchild of Annesley who first presented this show in 1997 for the Josephian Group of 86. From this date all the shows have had a full house and Annesley has taken this show to all parts of the country and abroad.
The show was not held for the last 2 years and there has been a big demand from music lovers of the 70's to hold this show again this year. The OBU of Thurstan College has come forward to give the 70's audience an opportunity after 2 years to see and hear the Stars who dazelled in the 70's.
The Stars who will be performing are:- Noel Ranasinghe (La-Ceylonians), Indrani Perera (Three Sisters), Anil Bhareti (ex Golden Chimes), Dharmaratne Brothers, Errol Fernando (Los Cabeleros) , Priya Peiris (La Bambas), Lankika & Shanaka Perera (Golden Chimes) , Merril Fernando (Amigos Romanticas), Raymond Fonseka (Samanalayo), Annesley Malawana ( Moonstones and Super Golden Chimes ) Paul Fernando, Dalreen Suby and Christine Gunewardene.
The Emcee for the evening will be Vijaya Corea and the Dance items will be performed by Kulasiri Budawatte Dance Troupe. Musical backing for all Artistes will be provided by Annesley & Super Chimes.
The Lighting and the Stage Back Drop will also be in keeping with the 70's which will be handled by Cool Tempo.
The organizing commitee of the OBU has spared no pains to give the 70's audience value for their money. Tickets are selling fast and are available at Torana Libery Plaza, Waters Edge, Thurstan College Swimming Pool office and at selected Keells outlets.