When most of us are young we often dabble in poetry, trying our best to manufacture a profound piece of writing which evokes the range of emotions we ourselves might be going through at that juncture in our lives. However, few of us are actually successful in achieving this goal and even fewer go on to publish their poetic creations. That is of course unless you are young Nivanka Fernando.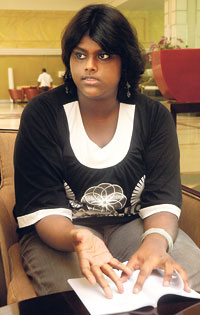 Pix by Saman Kariyawasam
Aged only 20, Nivanka recently released 'Bittersweet Serenade', a publication which consists of 45 of her own poems along with five of her short stories. Each piece of writing resonates with a particular emotion that, by drawing parallels to things such as everyday colours, the reader can easily identify with.
"The last ten poems in my book are devoted to colours. Each colour represents a unique emotion, for example turquoise blue signifies calm, Yellow represents happiness," Nivanka explains.
Besides the colours category, her book carries a lot more evocative writing, all of which are inspired by experiences she has encountered or situations she has observed during her young life. "The poem 'Rose Madder' was actually the result of a conversation I had with a few of my friends. The poem is about loss and being able to move on through pain," she reveals.
Nivanka defines her poetic and narrative writing style as being a fusion of both the classical and the contemporary. However she admits that when it comes to reading poetry she is more a fan of the works of classical poets such as Edgar Allan Poe, Lord Byron and William Shakespeare.
When it comes to novels she greatly appreciates the works of African American authors such as Bell Hooks and Alex Haley, the man behind the immensely popular book, 'Roots'. "They have such a unique and gripping way of putting things across and their stories are extremely interesting while at the same time very intense," she adds.
She herself plans on writing a novel, and although she has not yet mapped out a possible plot she says the story will revolve around some current issue. Commenting on local poetry, Nivanka says, "There are a lot of good poets in the country. I'm very fond of the works of Vivi Marie Vanderpoorten."
However Nivanka says that her poetry veers away from the common subject matter found in Sri Lankan poems."Most local poets tackle local situations, but I write on universal situations," she exerts. Nivanka thinks that there is an enthusiastic market for poetry in Sri Lanka but it is important to include a romantic theme or something which appeals to local audiences.
Considering the fact that Nivanka is such an ardent lover of all things literary, it is slightly confusing that she is doing a degree in Economics. However she explains that Economics helps hone facets of her writing relating to materialism and the like and expresses that writing, especially poetry, will always be the mainstay of her life.
For now though she is just happy that some of her thoughts and feelings are freely available to move and inspire people in a way that only poetry can.