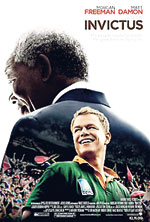 Screening under the theme 'Declaration of Independence', the American Center showcases 'Invictus', an inspiring true story of how Nelson Mandela joined forces with the captain of South Africa's rugby team to help unite their country.
Based on the John Carlin book Playing the Enemy: Nelson Mandela and the Game That Changed a Nation, the film is directed by Clint Eastwood and it revolves around the biographical drama film based on events in South Africa before and during the 1995 Rugby World Cup, hosted in that country following the dismantling of apartheid.
Starring Morgan Freeman as South African President Nelson Mandela and Matt Damon as François Pienaar, the captain of the Springboks, the South African rugby union team, others in the cast includes Adjoa Andoh, Tony Kgoroge, Julian Lewis Jones and Patrick Mofokeng.
Nelson Mandela's release from prison and his ascent to a democratically elected President of South Africa marks a radical change in the country.