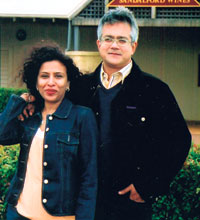 Ranmali and Kumar have known each other since they were 16 – they first met on the set of Richard de Zoysa's and Rajiva Wijesinha's dual productions of 'Romeo & Juliet'.They shared the stage again for several plays, including Steve de la Zilwa's 'Accidental Death of an Anarchist'. "I suppose you can say we 'met' on stage and the drama continues!" says Ranmali, of their 18-year marriage.
Unfortunately, acting hasn't been a priority of late. As Manager Programme Delivery, Ranmali is responsible for all the arts related programmes the British Council delivers in Sri Lanka. An integral part of the team that created www.writeclique.com, she is also working on several new projects that will nurture and showcase young Sri Lankan artistes.
As the MD for the Apparel Sector of the Favourite Group and Chairman of the Sri Lanka Apparel Exporters Association, Kumar has pet projects of his own. One of which he is particularly proud is the Garments without Guilt campaign. In his spare time, he doubles up as a guitarist for the band Brass Face. His Les Paul custom guitar is a prized possession and he took it along when he was recruited to play for Out of Time with Wade Campbell last year.
The couple share a house in Rajagiriya and love to travel – Ranmali in particular is always inspired by her visits to Edinburgh and London where she keeps an eye out for plays that would appeal to Sri Lankan audiences.
What to eat where:
R: Urban Kitchen: Laksa and Vietnamese rolls, Bayleaf: chilli prawn pasta and their Bayleaf Special pizza (their Mojitos are fab), the Portuguese rice at Lemon and hoppers at Green Cabin. K: Masala chicken at Buhary (with plain godamba please - not egg!) and spaghetti Vongole at Echo. And Hideaway in Arugam Bay for the best rice and curry I have had in a very long time - very fresh, very hot.
Where to visit:
R: Two wonderful first-time experiences this year: the drive through Lahugala in April with millions of butterflies fluttering about and on the A9 crossing Elephant Pass at sunrise.
K: Kudumbigala monastery near Arugam Bay/Panama-a fantastic setting for a 1st century BC site and wild enough to really feel the peace. Central Park NY in the winter and anywhere on the west coast of SL at sunset can't be beat.
What to read:
R: I read contemporary English writing by Sri Lankan writers. Too many to name, but the Gratiaen prize each year showcases new writing that feeds my interest and curiosity. E.g. Shehan's 'Chinaman' is unusual and really interesting to read. I love all the Harry Potters and am currently addicted to Steig Larson's Millennium Trilogy: just about to begin the third and last book.
K: 'Must reads' for anyone 'Catch 22' by Joseph Heller, Calvin cartoons (reminds me of my six-year-old nephew Sidharth), 'Dracula' by Bram Stoker and all of Shakespeare's tragedies. I also particularly enjoyed local author David Blacker's 'A Cause Untrue' - I found it superbly paced and unafraid to use violence to ram home the point of it all being so useless, whichever side you are on.
What to listen to:
R: The radio – I switch between YES FM and TNL when I drive and I keep no CDs in the car. But if I had to choose a favourite singer/musician, then it's got to be Sting.
K: Hollow point Halo, Stigmata and Kreb's Cycle (where are you now Azlan?) are superb local bands that I would love to hang out with. It takes me back to the 70's when Sri Lanka was ahead of the Asian game and had fantastic bands like Neville of Acid and Savage pushing the bounds of social acceptance-rebels with a social conscience...early Eric Clapton (I have been called Kumar Craptone!), Stevie Ray Vaughn, John Mayer Trio. Some essential listening - Deep Purple 'In Rock' and Peter Frampton 'Comes Alive'. As you can tell, I am a bit of a dinosaur. Best local soundtrack-tropical rain - as long as you keep dry!
What to watch:
R: The Road from Elephant Pass (Kumar's in it!) and I loved Machang.
K: Sinhala Theatre has grit and reality and I wish I saw more of it. Watch out for-murderous trishaws and buses...watch the local musical talent - it won't be long before we have a band that makes it big worldwide. Sean and Tracy - come on someone get them on the boards...
Peter O'Toole's incredible screen performance in Becket, most of the Tim Burton/Johnny Depp collaborations. I love watching live music on DVD. My 'must sees' are - the 'Last Waltz' directed by Martin Scorsese and 'Stop Making Sense' by Jonathan Demme and so much more I can add.... Oh, and don't miss Iron Man 1 and 2!