Popular actor cum director Channa Perera, following the success of his debut 'Anjalika' started his second direction 'Miringu Yaathra' last week. A joint production by Sunethra Balasuriya, Pearly Wijesinghe and Harsha Gamethige the film is played by Sanath Gunatilake, Iranganie Serasinghe, Hemasiri Liyanage, Nihal Fernando, young actress Shalini Tharaka who is introduced here to the silver screen and Channa himself.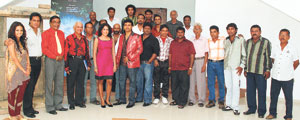 Cast and the crew of 'Miringu Yaathra'
Having joined the small screen in Dr. Lester James Peiris' tele drama 'Golu Hadawatha' and later acted in teleplays like 'Thimira Pawwa', 'Eka Gei Kurullo', 'Wassane Hiru Ewidin', 'Sathpura Wesiyo', 'Suriya Daruwo', 'Sawsiri Uyana', 'Prema Parami' and several others, Channa entered direction with 'Punchi Weerayo' a 78 episode teledrama. Later Channa also directed teledramas Wassane Hiri Evidin', 'Sanda Diya Arana' and 'Tikiri Hapannu'. Having entered filmmaking with 'Anjalika', 'Miringu Yaathra is his second direction.
The film which is now being shot in Sigiriya, Dambulla, Kandalama, Matale, Riverston and in and around Colombo is woven around a young man who is forced to explore the story of Ravana and his 'Dandu Monara' which was said to have been invented several thousand years ago before the airplane was designed.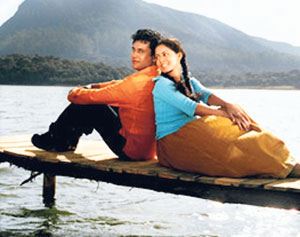 Channa in a scene in 'Anjalika'
'Miringu Yaathra' tells the story of Kalpa, an architect who explored on the aged old technological advances which are now hidden in history. Having got fed up with the busy life in the city, Kalpa makes a journey to the hill country to his house in quiet surroundings.
While living there, Kalpa makes a journey on his vehicle and accidentally comes across a beautiful young girl Charika. Terrified Charika jumps into Kalpa's vehicle and requests him to speed up the vehicle. However she does not divulge the reason for her state of fear and after this incident the two become friends. Kalpa later comes to know that Charika's father had been assassinated by an unidentified gang and now lives with her younger sister and an aunt. Charika's uncle an archaeologist lives a secluded life.
In the meantime Kalpa comes to know through a monk that the area is welknown for historical mysteries including 'Dandu Monara' said to have been used by King Ravana thousands of years before the modern air plane was invented. He also comes to know that Charika also has some connection to these mysteries and at the same time somebody was secretly trying to get it from her. Charika's father who had extensively studied on this and had made valuable discoveries was killed by someone who wanted to have the sole authority on it. Charika also reveals to Kalpa that someone was following her and now her life is threatened.
Will Kalpa be able to discover the aged old mystery of Ravana? Who killed Charika's father? And who is haunting Charika and her family? All these will be uncovered when 'Miringu Yaathra' starts to flow.
Cinematography is by Prabath Roshan, Kapila Kumara Kalinga has written the screenplay and Praveen Jayaratne will edit the film. Music is to bedirected by Rohana Weerasinghe, Uresha Ravihari and Udaya Sri Wickremaisnghe of Centigradez are to do the playback singing. Sameera Madhu Kindelpitiya handles the make up while Shan Perera is the choreographer.