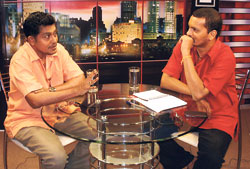 Well known actor and dramatist Indu Dharmasena will be seen in conversation with Kumar de Silva on Prime TV Roundtable's 'Celeb Chat'on Monday 5 July at 9.30 pm.
'Celeb-Chat' is a weekly one hour roller-coaster as the host and guests throw caution to the winds and indulge in pointed questions and evasive answers, quick repartees and inaudible asides, non-committal nods and embarassed grins.
Join celebrities from Sri Lankan society as they leave inhibition outside at the studio door and speak from their hearts. They'll all be there ... from movie stars to cricketers .. fashion models to writers ... film directors to hair dressers .... beauticians to politicians ... and more ...