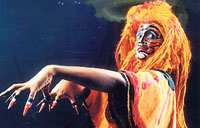 A festival of stage plays uniting three playwrights Professor Ediriwira Sarachchandra, Dayananda Gunawardena and Prasanna Vithanage who represented different stages of the Sri Lankan theatre history will go on the boards at the Lionel Wendt theatre from July 9 to 11.
Starting with the legendary 'Sinhabahu' of Prof. Sarachchandra, the festival will showcase Dayananda Gunawardena's 'Madhura Javanika' on July 10 and Prasanna Vithanage's new production 'Debiddo' which was based on Nobel prize winner Dario Fo's political satire on July 11.
Two shows will be staged at 3.30 pm and 7 pm and all seats are box planned and tickets are available at the Lionel Wendt theatre office.