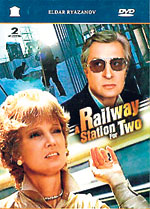 Soviet box office film 'Station for Two', a 1982 melodramatic and comedic love story will be screened at 6.00 pm on July 7 at the Russian Centre, Colombo.
Directed by Eldar Ryazanov and starring N. Mikhalkov and O Bassilashvili, the film became the leader of 1983 with a total of 35.8 million ticket sales and it was entered into the 1983 Cannes Film Festival.
A train station forms the setting for this chaotic tale of romance and coincidence. On his way to visit his father in the faraway town of Griboedov, pianist Platon decides to take a break for lunch. But when the food at a Zastupinsk railway station café fails to satisfy him, he refuses to pay.