Life is full of surprises. The best kinds of surprises are the ones you pull on yourself. I am surprising myself right now, by attempting to write an article on something I have been told is the most important thing in the world, next to beer – football. I am notoriously non-sporty, but here's an attempt to fit in.
Starting June 11th, billions of people began to eat, drink, sleep and dream football. This is very exciting for them, but it has been a period of immense nose-out-of-joint-ness for the rest of us normal people – girlfriends, wives, non-sporty dude-friends, generally clueless people – there are a lot of us out here, and we want some attention, we do.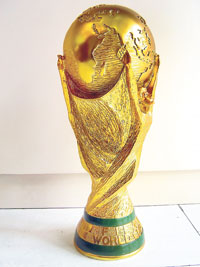 While the rules of the game fly over my head (I'm not going to try to explain them here) there have been a few surrounding facts about football I have found a little interesting. So here they are, in a nutshell:
1. FIFA stands for International Federation of Association Football (in French, it's Fédération Internationale de Football Association) and is held every four years. This is not a particularly interesting fact, but it is useful to know.
2. Given the statistics, it is no exaggeration to say 'billions' of people feel strongly about football, the world over. I feel strongly about football too. But my feelings aren't the good kind. 2006′s World Cup in Germany garnered 715.1 million viewers. That's like saying 35 times the population of Sri Lanka put their lives on hold for a month to see what happened to a bunch of men running after a ball. I'd say football is the path to global productivity.
3. The first World Cup was held in Uruguay in 1930. The most recent World Cup was held in Germany in 2006 with Italy winning the title. I remember this only because my American-Italian friend bought her son an 'Italia' t-shirt to celebrate Italy's victory.
4. The 2010 World Cup is on from June 11 to July 11 in South Africa. If you didn't know this by now, I'd say you and I should meet for a coffee some time. It's not every day you come across a kindred (clueless) spirit. Meanwhile you may find it interesting to know that this is the first time an African nation has hosted the World Cup. Woohoo for Africa.
5. And then there's my favourite 2010 FIFA World Cup fact - the vuvuzela - i.e. noisy little plastic trumpet given much too much importance in the news, the world over. Apparently, the debate is as to whether it should be banned from football matches altogether, due to its distracting (and annoying) sound, and the fact that it may in fact pose a threat to people's health. I am never quite sure if a decision on this point was ever made. It remains one of those things about football that simply fly over my head.
Notwithstanding the depth of my understanding of the game, I am uncontrollably excited about the 11th of July – not particularly because that is the day we will have a winner. I'm mostly excited because that day marks the end of this season of neglect and indifference for all non-fans (We want our TVs back!). I am counting the days!