"Open Sesame" – the door opened. Then there was this treasure that engulfed Ali Baba's eyes and from that point onwards he became a rich man. For a moment I will not envy Ali Baba at all, the moment I walked into the treasure trove of David Cruse an unimaginable spread of cricket memorabilia stood on proudly just to be savoured and cherished by any cricket loving eye.
Soft spoken Sri Lankan born David is a successful businessman down under, but prefers to remain as a background man and when we caught up with him at his Family villa in a posh Melbourne suburb overlooking a large part of Victoria, he was fervently working on a project with the Foundation of Goodness which was launched by the Muttiah Muralitharan and Kushil Gunasekera partnership.
Last year on the invitation of Muralitharan and Gunasekera David launched a scheme where he sponsored a team of Tsunami affected cricketers from the Seenigama area to take part in a Cricket Tournament in Malaysia and the lads ended up as the winners of the tournament. Giving the story in his own words he said "It's a tournament that called the KAT, which started about four years ago.
As you know the Malaysians are fast developing in cricket and this team which comprises all Malay children had won this under 15 tournament in the two previous years. Even prior to this I have got involved with this foundation in the development of sport in the Southern Province and I sponsored the fifteen young children for this tournament. Leave alone to Malaysia, some of those lads who were on that tour had even never been to Colombo. But, they rallied around well and won the tournament.
"On that merit this team is invited once again to Malaysia. As you know sponsoring a team of fifteen players to Malaysia from Sri Lanka is no small feat, so this year we are trying to go ahead with the sponsorship with the aid of a fund raising project.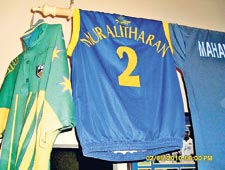 T-Shirt worn by Muralitharan along with Mahanama's.

Bradman's ash tray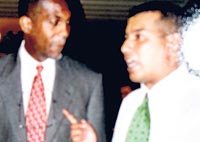 Cruse arguing with Michael Holding during the famous Murali upheaval.
Incidentally, David says that his partnership and the close association with Sri Lanka cricket and cricketers started quite by accident "I remember when Roshan Mahanama, Asanka Gurusinha and Aravinda de Silva came down to Australia as kids I befriended them and up to date my friendship with them is quite cordial and Mahanama and I have remained very close friends since then. Since then I have met and hosted a great deal of Lankan cricketers and keep a very close association with them", and added "right now there are around twenty Sri Lankan cricketers who have played the game at the highest level living in Victoria."
David Cruse is also the patron of the Sri Lanka Cricket Foundation which was initiated by then BCCSL head the late Gamini Dissanayake which came with a grant from the State of Victoria. However this institution has remained a very independent entity since its inception. In the formative years of the then Sri Lanka cricket the Sri Lanka Cricket Foundation in Australia did a lot of behind the curtain work including the initiation to hire Sri Lanka's first cricket Coach Davenell Whatmore, who incidentally was in charge of the team when the Lankan lads won the World Cup in 1996.
Halfway through the chat Cruse let us loose in his cricket treasure trove. First to meet the eye were the T-shirts collection of respective Lankan cricketers that quietly leads you on to the other items. One item that caught my eye was an Ash Tray that was displayed in a glass case. The insignia in the Ash Tray read – "Australia Xl – 20th tour of England – 1948". Then Cruse narrated this story "This was given to the 1948 Australian team which was dubbed the "Invincible"
Legendary Australian Don Bradman was also a part of this tour. Bradman being a strict non-smoker did not like the idea of being presented with an Ash Tray as a tour souvenir. He promptly returned the souvenir to the ACB. However latterly Bob Parish, former chairman of the Australian Cricket Board, who was in custody of this priceless item with a few others gave them to me just before his death" Parish died in Melbourne, aged 89.
Parish who was on the board from 1957 to 1991 and was in charge during the World Series Cricket split and hosted the negotiations to seal Kerry Packer's eventual television-rights agreement in 1979. In addition to this tray was also a file that had several documents pertaining to the Packer cricket split.
Another valued item was several letters Hand written and signed by Sir Donald Bradman on his own letterhead which may fetch a neat packet at Sotheby's any day.
A man who stubbornly believes that the game is bigger than any individual does not like the over commercialization of the game and thinks that the accepted longer version of the game should be preserved and nurtured and anyway it will become the ultimate victor.
Pix by S.R. Pathiravithana