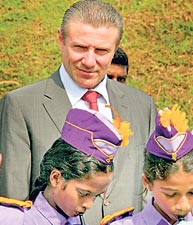 Sergey Bubka being escorted to the ground by two young girls of a band. (Picture by Sanka Vidanagama ).
World pole vault record holder Sergey Bubka of Ukraine who made a brief but busy visit to Sri Lanka yesterday, said that he was impressed by the facilities available at the new International Athletic Stadium in Diyagama.
Bubka, who is the President of the National Olympic Committee (NOC) of Ukraine was also impressed with the Olympic House of Sri Lanka. He expressed it as a fantastic facility as Ukraine does not have such a headquarters for their NOC yet.
Bubka visited the course for 'Kid Athletics' at Diyagama and was impressed with the talent of Sri Lanka's kids. He said that they were fast and had good coordination but must have good coaches who can guide them to improve with age.Bubka, who is also the senior vice president of the IAAF, said that Sri Lankan athletes and coaches must visit other countries for participation and learn from these experiences to improve on their own standards.