Isipathana put a full stop to Thomains unbeaten run yesterday at Mount Lavinia. The Lads from Havelock Town won by 30 points (2 Goals, 2 Tries, 2 Penalties) to 24 points (2 Goals, 2 Tries).
At the short breather the winners led 30-7.
Isiapthana College three quarters looked threatening in their moves. They never allowed the Thomains to settle in the first half threatening to score during all their moves. The Pathana three quarters made dashing speedy moves and their ghosting breaks through the Thomian defence was a constant occurring. Thomains were clearly rattled with a number of blunders in the initial half.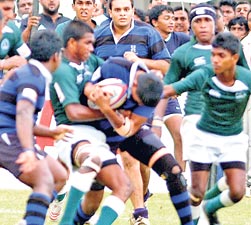 Isipathana fly half Prasad Davinda on his way to score the second Pathana try.- Pic by Ranjith Perera
Thomain never took man to man this allowed the speedy Pathana line to work at their own will. Thomains always went for the first phase move. They never tried for the hit at first and then re-group and attack. Pathana lads touched down on 4 occasions. Though the Thomians had fair share of the territorial advantage they never converted same in to points. The main reason for this victory for Isipathana would be their Three quarters who were the backbone to this Thomian defeat.
Thomains fought back gallantly in the second half though some superb display of running rugby but it was too late. They touched down on three occasions. In the end thomains were gallant losers at Monut Lavinia. Further there were number of referee blunders which cost the Thomians the entire game.
Ten minutes later Thomian three quarters gave away a penalty to their opponents when they were accidentally off side. Malik Jumad added the 3 points to take 8-0 lead.
The next 10 minutes of the initial half saw the Pathana lads touching down on three occasions running circles around the Thomians. Fly Half Prasad Davinda dummied and intercepted his way though with Malik Jumad adding the extra points. Minutes later another Jumad penalty hitting the upright saw flanker Deshan Arachige who had electrifying speed to get the loose ball and touch down. Thomians cut the deficit through a forwards rush when S Ahangama touched down. Kapuwatte was on target. In the last 5 minutes Pathana scored 10 more points. A Jumad penalty and a dandy try through nippy scrum half Mohamed Rizvan to take "lemons" at 30-7.
In the second half Thomians re-grouped and scored tries through Anjula De Silva, W Willawara ans skipper Rajindra Gunasekera but it was too late as they ran out of time.
Referee-Irshad Carder Thomains won all their junior games: Under 12: 7-5, Under 14:14-7, Under 16: 7-5, Under 18: 12-0