Imthiaz Ahmed, one of India's most distinguished coaches, recently returned to his homeland of India along with his young charges from the Imtiaz Ahmed Cricket Academy (IACA) after a long and fruitful Sri Lankan tour.
During the tour, IACA were engaged in eight matches against the CCC School of Cricket, writing another chapter in a ten year cross border partnership between the two academies.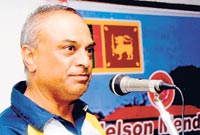 Imtiaz Ahmed a former National under 19 cricketer, Ranji Trophy player and Director of coaching at I.A.C.A Bangalore addressing the gathering.
Founder of the CCC School of Cricket and legendary Sri Lankan coach, Nelson Mendis, explains that the IACA and his academy have traded so many tours between them that they have recently inaugurated an 'Imtiaz Ahmed- Nelson Mendis' challenge trophy.
Coach Mendis reveals that his academy has also participated in the All India Pepsi Cup, a prestigious inter school tournament formulated by Imtiaz and hosted yearly in India, and won it in the Under 13 and Under 11 age groups a total of four times.
Imthias Ahmed has groomed some of India's finest cricketers during the twenty years his academy has been in existence. The stand outs who emerged from this sea of talent were Rahul Dravid, Anil Kumble, Javagal Srinath, and Robin Uthappa while Stuart Binny, Anirudh Sri Kanth and Rohan Gavaskar are some of the newer graduates who have announced their presence in the local Indian leagues including the Indian Premier League.
When established in 1987, IACA was initially known as the Brijesh Patel-Imtiaz Ahmed Cricket Academy however in later years Brijesh Patel pulled out from the venture and left Imtiaz alone with the responsibility of honing the game of India's next generation of cricketers.
This was not to be a challenge for Imtiaz due to the fact that he had accumulated a wealth of coaching knowledge while guiding the school cricket teams of the Baldwin Boys High School, St. Germains, Clarence, Presidency, Florence and Cambridge.Before he stepped into the coaching arena Imtiaz enjoyed an equally illustrious career in the playing circle. He is renowned in Sri Lanka for having represented, in 1970, a dizzyingly talented Under 19 Indian team fielding such stars as Ajit Wadekar, Dilip Vengsarkar, and Sunil Gavaskar against an equally awe striking Sri Lankan Under 19 unit comprising Mithra Wettimuny, Duleep Mendis,and Bandula Warnapura to name a few. In a game fielding a number of the game's future powerhouses, Imtiaz shone the brightest, emerging as the best batsman and bowler.
This is a testament to his great cricket potential. Sadly however although Imtiaz went on to have a very successful domestic career, playing for Karnataka in the Ranji Trophy, he was never able to break into the national ranks. This was chiefly due to the fact that at the height of his career he had to compete for spots on the national roster against players of the caliber of Sunil Gavaskar and Dilip Vengsarkar
In retrospect however, as the IACA moves toward a 26th year of guiding and fine tuning India's future cricket stars, it is fair to say that his triumphs as a coach have contributed more to the growth of Indian cricket than perhaps any amount of success he might have had as an international player could have.