For a young cricketer to achieve a responsible post in the country he resides is a great achievement. It is something special when you are from another country. That is what 25-year-old Kelum Perera who resides in Italy has achieved.
Kelum a Sri Lankan born in Italy has done proud to himself and his motherland. Kelum's rare achievement is that he has been offered a position in the Italian Olympic Committee (IOC) as a committee member.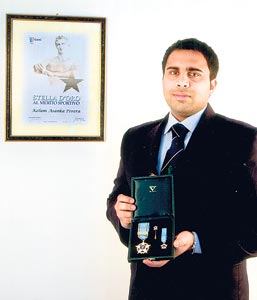 Kelum Perera … taking sports in Italy to greater heights.
This was also the first ever time that a cricket administrator has been included to the IOC. Kelum will be the national advisor for cricket which also is the first time a foreigner is holding a post of this nature in the IOC.
For a Sri Lankan to achieve this honour is a rare feat. But it has not been a bed of roses for Kelum who had combined his studies and sports with dedication enabling him to be honoured with this responsibility.
Kelum's father Kumaradasa who is on a short visit to Sri Lanka speaking to the Sunday Times elaborated the past which ultimately helped his son reach this position.
Kumaradasa or Kumar as he is affectionately called, is an Old Anandian who played cricket for his alma mater alongside Anusha Samaranayake the present fast bowling coach at Sri Lanka Cricket and J.C. Gamage, a renowned cricket coach.
Kumar migrated to Italy in 1978 with his wife Ashoka which was to become his future home. He succeeded in gaining permanent residency in Italy and continued his cricket in whatever way possible. It was during this period that Kelum was born in Florence, Italy.
Kumar stated that as Kelum was getting older he encouraged him to get involved in sports and it was no surprise that his first liking was soccer due to the fact that it was the most popular sport in Italy.
Kumar, undeterred, slowly but surely persuaded his son to take up cricket. At the beginning he was reluctant making excuses like his clothes were getting dirty and it was very tiresome.
But even then it did not discourage Kumar who explained to his son of the benefits in cricket and said thank God he took it very seriously and later succeeded to secure a place in the Under 15 national side which he later led the team. Kumar proudly says that from there on Kelum went from strength to strength and secured his place in the Under 18 national team. Later Kelum played for Chesena CC and Bolonja CC in Italy. Kumar too at that period was a member of Chesena CC and this was the first instance where a father and son played in the same team in Italy.
While playing in England Kelum followed the Level One, Two and Three cricket coaching courses and qualified with flying colours as a cricket coach at the tender age of 22.