For most men, zipping across an uneven, rutted, muddy track in a powerful dirt bike is a distant childhood dream but for Tuan Ossen, Motocross racing has always been a clear and accessible life ambition.
From an early age Tuan was exposed to both the sport of Motocross as well as the fearless brand of racing incorporated by his father, Tuan Farheen, during his riding days which spanned the period between 1952 to1995. In 1980 Tuan senior was crowned the country's Motocross champion.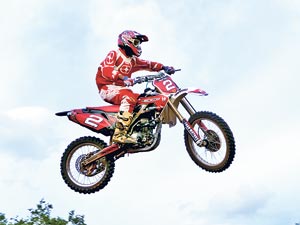 Tuan Ossen is airborne.
There was very little doubt that Tuan Ossen would attempt to follow in his father's footsteps by taking to the sport with a single minded determination.
"I started in the year 2000 and after 10 years in the sport I have secured 60 trophies in some of the country's major dirt biking events," Tuan explains.
Tuan's success in the sport has not been merely relegated to success on a local platform for time and time again he has produced impressive outings in a host of international Motocross events.
In fact at the end of this month Tuan will again be flying abroad to exhibit his riding prowess in an Indian tour. As the year progresses he will see himself involved in even more foreign competitions such as the Asian Championships and events in Mongolia, Saudi Arabia and Indonesia.
"Currently Sri Lanka is ranked tenth in the world but it is very difficult for riders from our country to match those from Japan and Mongolia, they have the latest bikes and come with good sponsors," Tuan laments
Sponsorship is an aspect of the sport sadly lacking in this country. Tuan himself currently competes without a sponsor backing him and he appeals to any willing party to reveal themselves to him.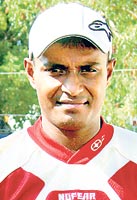 Tuan Ossen
However he expresses more enthusiasm when speaking about the growth of the sport and the facilities allocated to potential racers. He says for this purpose there are a number of private tracks which are freely available, Furthermore he urges all budding racers to stick to one chief principle, "Practice, practice, practice."
He also reckons in family support as being a vital component of success on the race track. "I have to thank my father, mother and my brother who was also a racer until he moved to Qatar, for all the encouragement they continue to give me." Tuan says also expressing gratitude to his past school, Zahira College, Colombo.
Presently ranked second in the country, Tuan has set, as a long term goal, the task of procuring the number one rank which is currently held by Gayan Sandaruwan.
To do so Tuan will have to dominate the year's top ten tournaments, a feat that does not seem impossible considering the immense racing talent he wields.