In a frenetically paced and keenly contested rugby fixture, Royal College managed to overpower and outplay Dharmaraja College to grab a 27-5 victory at the Royal College Sports complex yesterday.
The Royalists scampered over the try line five times, converting once, while the Rajans fought bitterly to manufacture a solitary unconverted try in response. Yudith Karunaratne, Tharaka Wijesuriya, Dilshan Dabare and Shehan Pathirage scored for Royal while Dharmaraja troubled the scorers through Sathsara Basanayake.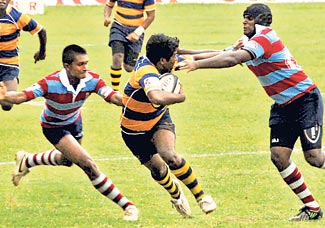 A Royal player slices through the Rajans defence.
It has to be mentioned that the final score is not a fair reflection of the way the match progressed. In reality Dharmaraja made several enterprising trips into the Royal half but were unable to produce the type of clinical finishing the Royalists were producing in abundance.
Although the game featured end to end action it was also plagued by a number of fumbles and handling errors from both teams.Throughout the first half Royal pressed hard against the steadily weakening Dharmaraja defence, until finally the latter cracked to allow Yudith Karunaratne to power home for the first try. His try was followed in quick succession by those from Tharaka Wijesuriya and Dilshan Dabare. At the whistle for the end of the half the score was 15-0
After re-entering the pitch, Dharmaraja were pummeled further by a try from Shehan Pathiranga and a goal from Dilshan Dabare. Throughout the match Dharmaraja matched Royal for pace and towards the waning moments of the match they finally managed to finish off an attacking move cleanly, Sathsara Basanayake thundering home to earn Dharmaraja a deserved try.