BRIDGETOWN, Barbados, May 8, 2010 (AFP) - Defending champions Pakistan were on the brink of elimination from the World Twenty20 after losing to New Zealand by just one run in a thrilling Super Eights match here on Saturday.
Victory for South Africa over England in Saturday's other Group E match at the Kensington Oval would mean Pakistan no longer had a chance of reaching the semi-finals.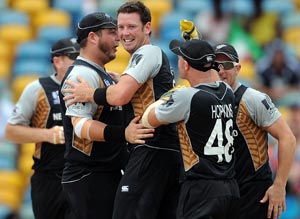 Butler(C) is congratulated by teammates after taking the wicket of Pakistani cricketer Misbah-ul-Haq during The ICC World Twenty20 Super 8 match between New Zealand and Pakistan at the Kensington Oval on May 8, 2010 in Bridgetown, Barbados. AFP
Recalled New Zealand fast bowler Ian Butler took an impressive three wickets for 19 runs as opener Salman Butt, who finished on 67 not out, so nearly saw Pakistan to victory after a top-order collapse.
Pakistan, chasing 134 to win, finished on 132 for seven in reply to the 133 for seven New Zealand made after losing the toss.
The title-holders began the final over, bowled by Butler, needing 11 to win. Left-hander Butt couldn't make contact with the first ball but slashed the second down to third man for four.
He also missed the third delivery before crashing the fourth through point for another boundary. Off the fifth ball, Pakistan ran a bye and that left Abdur Rehman, who'd earlier taken two wickets for just 19 runs in his first Twenty20 international for nearly three years, on strike with two needed off the final ball.
Rehman, also a left-hander, made good contact as he swung at a legside delivery from Butler but the ball flew straight to Martin Guptill to spark joyous celebrations amongst the New Zealand team.
The Black Caps, who lost their opening Super Eights match to South Africa as Pakistan went down to England, needed a victory every bit as much as the title-holders to revive their hopes of a semi-final spot.
Pakistan collapsed to 25 for three in the face of hostile fast bowling from Shane Bond and the recalled Kyle Mills.
Man-of-the-match Butler, selected along with Mills after fellow seamers Jacob Oram and Tim Southee were dropped, then struck twice to reduce Pakistan to 58 for five in his first match of the tournament. Pakistan complete their Super Eights programme against South Africa in St Lucia on Monday, when New Zealand face England.
Scoreboard
New Zealand innings
B. McCullum c Sami b Rehman 33
J. Ryder c Rehman b Sami 7
M. Guptill c U Akmal b Rehman 2
R. Taylor c K Akmal b Sami 3
D. Vettori run out (Sami/Ajmal) 38
S. Styris b Afridi 21
G. Hopkins c Rehman b Afridi 2
N. McCullum not out 12
I. Butler not out 0
Extras (lb2, w12, nb1) 15
Total (7 wkts, 20 overs) 133
Did not bat: K Mills, S Bond
Fall of wickets: 1-34, 2-41, 3-55, 4-58, 5-98, 6-104, 7-127,
Bowling: Aamer 3-0-20-0 (1nb, 2w); Sami 3-0-25-2 (7w); Rehman 3-0-19-2 (2w); Hafeez 3-0-11-0; Afridi 4-0-29-2; Ajmal 4-0-27-0 (1w);
Pakistan innings
Kamran Akmal b Mills 5
Salman Butt not out 67
Mohammad Hafeez c Hopkins b Bond 8
Umar Akmal c Hopkins b Mills 0
Misbah-ul-Haq lbw b Butler 3
Shahid Afridi c N MCullum b Butler 11
Abdul Razzaq c Taylor b N McCullum 29
Abdur Rehman c Guptill b Butler 2
Extras (b1, lb1, w4, nb1) 7
Total (7 wkts, 20 overs) 132
Did not bat: Mohammad Aamer, Mohammad Sami, Saeed Ajmal
Fall of wickets: 1-15 (K Akmal), 2-24 (Hafeez), 3-25 (U Akmal), 4-42 (Misbah), 5-58 (Afridi), 6-111 (Razzaq)
Bowling: Bond 4-0-28-1 (1w); Mills 4-0-33-2 (1nb, 2w); Butler 4-1-19-3; Vettori 4-0-31-0 (1w); N McCullum 4-0-19-1;