Canoeing and Kayaking is the latest sport to hit Sri Lanka. "Presently, we are a fledgling association, trying hard to promote competitions and we work voluntarily," said Prithiviraj Perera, President of the Canoeing and Kayaking Association of Sri Lanka (NCKSL).
Continuing Prithiviraj said, "The Olympic Solidarity Assistance programme and the ICF have helped us by sending an ICF certified coach to Sri Lanka for a training of trainers programme, which was conducted in Kitulgala, Bolgoda and Belihuloya (Samanalawewa) from April 17- 29 this year with funding provided from the Olympic Solidarity Assistance (OSA) initiative. We have only a small stock of Canoes and Kayaks for the association (8 in all, donated by the ACF) and housed in Bolgoda.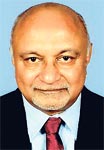 Prithiviraj Perera,
President/NACKSL
Under a new initiative, we have joined hands with the Bolgoda Rowing Club and are ably supported by Mr. Sithira Wickramasekara (President) and Mr. Chanaka Talpahewa (Vice President) of the club, who are keen on promoting Canoeing and Kayaking as a competitive sport. We have also got the interest of the Kotelawala Defense University and Major General Milinda Peiris (Vice Chancellor/Commandant), a great sports enthusiast himself who has promised support", said Prithiviraj.
Three women instructors from the Kotelawala Defense University also took part in the recently concluded training programme in Bolgoda. "What is most needed is continuous practice and more competition", says Perera, to take this sport forward.
Some private enterprises do promote Canoeing and Kayaking as a leisure sport (not competition) and they have leisure boats in Kitulgala, Belihuloya, Kalutara and Bolgoda.
The ICF coach, Mr. Zakaria Mahmoudi (Tunisian National) was quite pleased with the potential Sri Lanka offers. With adequate support and interest, this could be seen as a niche sport, where Sri Lanka as an island nation, could make a mark in the Olympic Games and World Championships in this sport in the times to come.
To that end, the NAKCSL needs to enhance the present stocks of equipment, organize more competitions and also, host an international competition in order to increase the due focus and attention the sport deserves, explained Prithiviraj Perera.
Continuing Prithiviraj said: The backbone of Canoeing is made up of an array of different disciplines, all contested on the international stage. They require intense preparation, supreme athleticism and a resolute mentality to reach the top, with world cups leading to the biggest stage of the year, the World Championships. And Canoeing/Kayaking has become one of the most popular leisure and adventure pastimes in the world.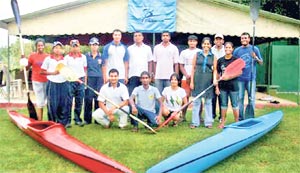 ICF coach, Zakaria Mahmoudi (4th from Left) with Sithira Wickramasekera and Chanaka Talpahewa (5-6 from left) President and Vice President of Bolgoda Lake Rowing Club and other trainees
Canoeing which is done in a kneel down position on the canoe, is made up of 3 types, viz; C1 (Single), C2-(Two persons) and C4 (4 Persons). Kayaking is done in a sitting position in the Kayak, which is made up of 3 types,viz:K1(Single), K2 (Two persons) and K4 (4Persons).
Both Canoeing and Kayaking are done on different surfaces. Flat water, White Water (Rapids) and Sea/Oceans. Competitions could take the form of sprints, slalom, marathon, freestyle etc . . . and other forms include wild water, Ocean racing/Surf ski etc.
Canoeing and Kayaking is one of the newest sports to be officially registered with the Ministry of Sports in Sri Lanka. The National Association for Canoeing and Kayaking in Sri Lanka (NACKSL) was registered with the Ministry of Sports in August of 2004 as the 60th registered sport in the country.
The NACKSL has also been recognized since then by the International Canoe Federation (ICF) which has 142 member countries, The Asian Canoe Federation(ACF), and also, the National Olympic Committee.(NOC).
The ICF has a talent identification programme launched in 2009,which encompasses both the Canoe Sprint and Canoe Slalom disciplines and favours women athletes from developing countries where training opportunities and coaching has not yet reached the highest level. The ICF provides these budding sportsmen and women with training opportunities that are not available in their country.
The level of training, the condition, in which they train and the training camps are on par with the North American and European equivalent. The benefits of producing these talented athletes who are identified are two fold. Firstly, developing paddlers who are capable of competing at an international level brings new aspirations of entering the Olympic Games. Secondly, as new nations compete in the games, the profile of canoeing itself is raised within the developing nations, contributing to both national interest and motivation.
An eco friendly sport, Canoeing and Kayaking is a popular Olympic sport and has nearly 36 medals on offer at the Olympics in the disciplines of flat water and slalom for Canoeing (kneeling down) and for Kayaking.(seated). Being an island nation, Sri Lanka has much potential to send our water sports athletes to the Olympics, as also, promote sports tourism to the country. It is also, not a very expensive sport and despite the growing popularity of Canoeing and Kayaking worldwide, a Canoe/Kayak of top quality could be had for around Rs. 150,000.($ US 1,200).With many waterways in Sri Lanka, this is certainly a sport with much potential, where even athletes from the poorer sections of society, particularly from the villages could be harnessed, if more support is forthcoming.
More information on Canoeing/Kayaking, please consult: www.canoeicf.com