Sri Lanka is gearing with great caution and excitement for the first ever Youth Olympic Games (YOG) to be held in Singapore. The two week competition will be for young athletes between 14 to 18 years. They will compete in 26 sports and take part in culture and education programmes as well.
The Singapore 2010 Youth Olympic Games is getting ready to host some 3,600 athletes and 800 officials from the 205 National Olympic Committees (NOCs), along with an estimated 800 media representatives, 20,000 Singaporean and international volunteers, and more than 500,000 spectators.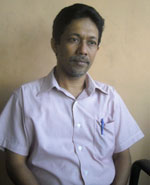 Nishantha Piyasena
Nishantha Piyasena, Assistant Secretary of the National Olympic Committee (NOC) of Sri Lanka has been appointed the Chef De Mission of the Sri Lanka contingent for this inaugural event. Nishantha is also the Secretary of the Cycling Federation of Sri Lanka.
Nishantha in an exclusive interview with The Sunday Times said the NOC of Sri Lanka has already picked Athletics, Table Tennis and Archery for this historic event. He also said that the NOC was looking at other sports such as Swimming, Badminton, Rowing, Weight Lifting and Rifle Shooting to be the fourth sport for the event.
"The Selection Criteria will come up in May and the NOC will set up Qualifying Standards for these sports," said Nishantha. "This is a good opportunity to train our youngsters to take part in international competitions, to discipline them and to make them aware of the dangers of doping. The YOG is a good stage and Singapore must be lauded for launching this sporting gala," commented Nishantha.
The Singapore 2010 Youth Olympic Games aims to inspire youth around the world to embrace, embody and express the Olympic values of Excellence, Friendship and Respect. It is expected to create a lasting sports, culture and education legacy for Singapore and youth from around the world, as well as enhance and elevate the sporting culture in Singapore and the entire region as well.
According to Nishantha Sri Lanka has been given four Universality Places. The International Athletics Federation has already set guide lines for the selection of athletes to the various National Olympic Committees.
Nishantha will be attending the crucial meeting of the Chef De Missions of participating nations in Singapore on March 24 and is already arming himself with all the information to present Sri Lanka's case at this meeting.
Meanwhile Singapore had an early treat this year as they took part in arts and cultural activities during Singapore 2010 CAN! Arts (Create Action Now!) and experienced the exciting programmes that athletes at the first Youth Olympic Games will take part in August this year.
Arts and Culture is one of the seven formats of Singapore 2010's Culture and Education (CEP) Programme. During the Singapore 2010 Youth Olympic Games (Singapore 2010), athletes will be able to enjoy a feast of visual and performing arts, including daily performances and evening festivals at the Youth Olympic Village. They will also get to try their hand at traditional Singaporean arts and crafts like calligraphy, batik painting and rangoli.