As it seems all's not well in cricket. Veteran seamer Chaminda Vaas who was one of the main figures in bringing the Lankan cricket to the present status in the World forum is a hurt man. Vaas is hurt because the selectors have decided to ignore him and have omitted him from the pool of thirty who are getting ready for the T20 World Cup in the West Indies.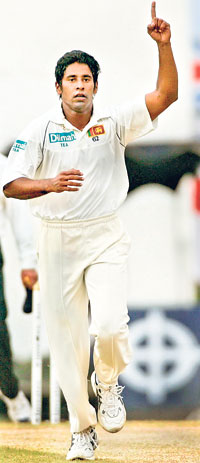 Chaminda Vaas
Vaas retired from Test cricket along with veteran Sanath Jayasuriya, but kept his options opened for ODI cricket. However the national selectors dumped him after he took his 400th ODI wicket with the wicket of India's prolific run getter Yuvraj Singh in August 2008 where he bowled nine overs for forty runs. Vaas played his first Test against Pakistan in 1994 and played his last test also against Pakistan in 2009 bagging 355 wickets in 111 tests.
He feels that a certain section of the hierarchy (Not the administration) is on a witch hunt against him. Speaking to the Sunday Times he said: "Once I was dropped from the side sighting that I was losing my speed I worked on it during the past year and I am bowling the way that I served my country's cause for nearly two decades. At the same time I also worked on my batting and I have developed that department too. I can surely say that I now can deliver at the speed that most of the medium pacers bowled during the Indian and the Bangladesh tours.
"During the ongoing Provincial tournament I wanted to bat up in the order to prove my self, but the people concerned prevented me from doing so. All this while I stayed with the proper system I did not get involved in Politics nor did not give statements like some of the seniors. I think that is why that they have felt that I am a good platform to thump on."
The Brendon files
In the second incident another senior cricketer who wanted to remain behind the curtain solicited his disapproval about the removal of Brendon Kuruppu from the post of manager of the Sri Lanka national team.
Initially it was said that Kuruppu may swap places with selector Anura Tennekoon, but it now appears that by Kuruppu not accepting the position as selector that the move was done against his will. According to the insider Kuruppu was removed for doing his job the way it should be done and remaining within the peripheries that the post of Cricket Manager calls for.