The 131st Battle of the Blues between Royal and S. Thomas' may turn out to be a clash of attrition when play gets under way at Sinhalese Sports Club Grounds in the first day of three days on Thursday.
Royal has played 17 matches beating Wesley, St. Benedict's, Maliyadeva and St. Joseph's. They have lost to Prince of Wales and Trinity.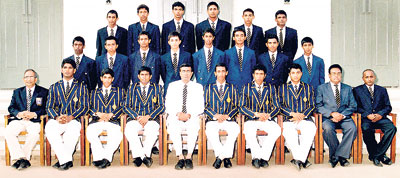 Seated left to right - Mr. M.T.A Rauf(S.G.M), Ramith Rambukwella, Chalaka Bogoda, Bhanuka Rajapakse (Capt), Mr. Upali Gunasekera (Principal), Maneesha Tantirigoda, Kithruwan Vithanage, Chathura Rajaratne, Mr. E.G.M. Rajakaruna(M.I.C),Mr. G. Perera (Coach) Standing 1st Row Left to Right - Imal Liyanage, Dhanika Rajakaruna, T. Abeysekera, Madushan Rajaratne, M. Abeysekera, Imran Khan, Madushan Gunaratne, Devind Pathmanathan Standing 2nd Row Left to Right - C. Devasurendra, L. Landewela, Guarav Deva, P. Sampath, Waruna Dissanayake, Shavinda Edirisuriya
Captain of the Royal side is fourth year coloursman Bhanuka Rajapakse. This left hand aggressive top order batsman and right arm medium pace bowler represented Sri Lanka at under 19 and under 17 levels. He was the deputy on the Sri Lankan under 19 tour of South Africa. He won two man of the match awards in the under 19 World Cup played in New Zealand earlier this year. In seven matches Rajapakse has scored 540 runs with a best of 132.
Vice captain of the side is fourth year coloursman Maneesha Tantirigoda. This left hand middle order batsman is better known for his deadly left arm leg spin bowling. Tantirigoda became the first Royalist to obtain 100 wickets in a 1st XI season. He has ten 5 wicket hauls and six 10 wicket hauls - . One of the stars in the team is third year coloursman Kithruwan Vithanage. This left hand aggressive top order batsman and right arm leg spinner was the Vice Captain of the Sri Lankan Youth World Cup squad. Vithanage also won two man the match awards at the Youth World Cup.
Opening the batting for Royal will be third year coloursman and left hander Chalaka Bogoda a useful right arm off spinner, Bogoda has scored over 450 runs in the season. Joining Bogoda will be Ramith Rambukwella a second year coloursman and right arm off spinner. Rambukwella has scored nearly 900 runs and taken over 25 wickets. All Royal fans will be hoping the two south paws put on a good opening stand and lay the platform for their more than capable middle order to capitalize. In addition to the skipper and Vithanage there is Charutha Rajarathna a second year coloursman. Rajarathna is also a left hand middle order batsman and right arm leg spinner. Then there is Madushan Gunaratne a left hand lower middle order batsman and wicket keeper of the team.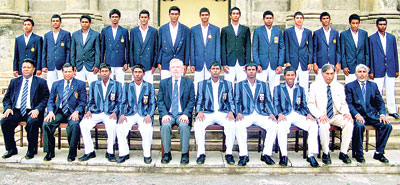 Seated L To R: Mr. Lakmaal De Zoysa (Master-In-Charge), Mr.Vijitha De Silva, (Prefect Of Games), Lalindra Peiris, Ashane Fernando, Rev. John C. Puddefoot (Warden), Dinesh Walpita(Captain), Chamodh Pathirana, Sachin Peiris, Mr.Barney Reid (Coach), Mr. Shiraz Samsudeen(Assistant Coach) Standing L To R: Pasan Wijewardena, Brian Dharmasena, Kavindu Perera, Sachinda Liyanarachchi, Yasas Nanayakkara, Nilaksha Fernando, Dimitri Dolapihilla, Malinda Jayasinghe, Nuwan Kavinda, Neomal Wickremasekera, Madushan Ravichandrakumar, Umesh Fernando,Prabath Ariyaratne
There are Madusha Rajaratne Devind Pathmanathan, Shavinda Edirisuriya, Imal Liyanage, Waruna Dissanayake and a few others who can help bolster the score.
Fresher Imran Khan no known relation to the Pakistani legend is the opening bowler of the side. Sharing the new ball with Khan is Fresher Guarav Deva who is a right armer. In the spin department Royal have lots of options. In addition those mentioned above there is right arm off spinner Dhanika Rajakaruna who can add variety to the attack.
Fourth year coloursman Dinesh Walpita leads a relatively inexperienced Thomian side. Walpita is a right Arm fast medium bowler right hand bat. Walpita is also a good fielder in any position. Freshers Umesh Fernando and Kavindu Perera may open the batting for the Thomians. Perera is one of the lynchpins in the batting department. He has scored over 250 runs. But by far the Thomians will depend on fresher Nuwan Kavinda who has close to 1100 runs Fernando is another lynchpin. The right hand middle order batsman and right arm leg spinner, has scored over 500 runs though his wickets column is only three fellow second year coloursman. Chamod Pathirana is a good all rounder.
The right hand batsman and right arm medium bowler has scored over 450 runs and taken in excess of 30 wickets. Walpita has two more second year coloursman at his disposal in Lalindra Peiris and Sachin Peiris. Lalindra is right hand batsman and right arm off spinner. a good slip fielder while Sachin is a left hand middle order batsman and wicket keeper of the side. Umesh Fernando and Pasan Wijewardena can help the Thomians post a decent total while Sachinda Liyanaarachchi and Brian Dharmasena will push Umesh Fernando and Kavindu Perera for the openers' berth.
Fresher Nilaksha Fernando is a right arm fast opening bowler and left hand batsman. Fernando and Skipper Walpita may share the new ball. Variety is there in plenty Neomal Wickremasekera who is a left arm leg spinner and Madushan Ravichandrakumar is right arm leg spinner. They will support a number of players mentioned above. And last but least there is left arm medium bowling of Dimitri Dolapihilla.
S. Thomas have played 18 matches at the time of going to press. They defeated Richmond and Joseph Vaz and lost to Trinity.
The last two matches in the Battle of the Blues ended in draws but S. Thomas. won the match in 2007 under Ashan Peiris. Thus Royal may be looking for some revenge. Beware the wounded Thomian!