Sri Lanka's next big outing in hockey will be the Asian Games Qualifying Tournament in Dhaka, Bangladesh from May 7 to 15.The teams taking part in the nine day tournament are: Sri Lanka, Bangladesh, Singapore, Hong Kong, Oman, Macau, Taipei and Thailand. Sri Lanka was deprived of Bronze at the SAF Games in Bangladesh. A tense situation had prevailed in the Sri Lanka-Bangladesh third place playoff hockey encounter at the SAF Games in Bangladesh. Sri Lanka had led 1-0 at the breather and just when the team was gearing for the second half had been disastrous.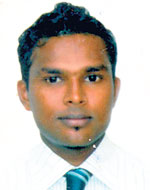 Diluka Weerasuriya
According to Diluka Weerasuriya of Sampath Bank, who had been a key player for Sri Lanka in the game against Bangladesh, the umpires – one from Pakistan and the other from India – had been severe with the Sri Lankans. Yellow Cards had been dished out lavishly to Sri Lanka and at one time Sri Lanka had only eight players on the field and the team in disgust had gathered in the middle of the field and were wondering what steps should be taken next when the President of the Sri Lanka Hockey Federation Sumith Edirisinghe (SSP Panadura) had advised the lads to continue with the game as a walk out would have resulted in severe repercussions where Sri Lanka's international hockey future was concerned.
Just before the Sri Lanka hockey team embarked on this tour Team Manager Vishwanathan spoke in confident terms of bringing home the Gold. This was because Sri Lanka had won the Bronze at the SAF Games held in Sri Lanka. However their chances of Gold, Silver or Bronze had ended up in despair when the team lost to Bangladesh.
Diluka Weerasuriya was full of praise for the hockey set up in Bangladesh.
"They have German coaches. The team had practiced in Germany and they possess ample astro-turfs to fine tune their game," said Diluka.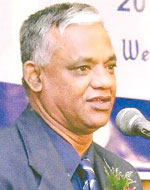 Sumith Edirisinghe
Even though Sri Lanka boasts of two Astro Turf hockey pitches only one is in use and that too in Matale. The Astro Turf in Colombo is under construction and had been so for the past couple of months and the team had practiced in Matale before leaving for Dhaka.
Team Manager Vishwanathan said that Sri Lanka had also lost several chances of scoring. The Sri Lanka Hockey Federation (SLHF) in a bid to give a much deserved boost for hockey has launched the President's Cup Inter-Club Hockey Tournament with teams from Badulla, Wennappuwa, Galle and Matale entering the fray.
The teams competing in the President's Cup are:
Group A: Navy, Wennappuwa, Christ Church, Old Anandians, Gampaha. Group B: Army, CH&FC, Old Zahira, Badulla. Group C: Air Force, BRC, Kandy, Old Thomians. Group D: Police, Park SC, Old Nalandians, Old Vijayans and Galle.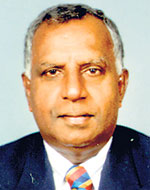 P. Vishvanathan
The SLHF held its Annual General Meeting at the Police SC Pavilion last week where the entire committee was re-elected with Senior Superintendent of Police (Panadura) Sumith Edirisinghe who is also a key member in the Asian Hockey Federation at the helm once again. Following are the Office Bearers for the SLHF for 2010/2011.
President: Sumith Edirisinghe; Vice Presidents: P. Vishvanathan, Vincent Dias, L. Abeygunewardena, Dharshana Wijesinghe, R. Maheswaran; Hony Secretary: Gamini Jayasinghe; Asst. Secretary: K. Jeyaratnam; Hony Treasurer: Mahesh Siriwardena; Asst. Treasurer: Gaya Perera; Working Committee: Asoka Hapuarachchi, G.S. Kapukotuwa, Keerthi Suresh, Shiromanatha Wijesinghe, Dayal Deegahawatura; Umpires Committee Chairman: Mahesh Abeywickrema, H.M.C. Bandara, M.F. Laheer; Coaches Committee Chairman: S.M. Mulafer; Two Members: H.M.A.H. Bandara and Tilak Wimalasinghe.