Sri Lanka kept alive its chances of remaining in Group Two or even progressing to Group One with a straight - 7-6, 6-4, 6-3 victory over New Zealand In their Asia/Oceania Davis Cup Doubles tie at the Sri Lanka Tennis Association (SLTA) Clay Courts yesterday.
Sri Lanka's duo of Rajeev Rajapakse and Harshana Godamanne proved too good for the highly rated Kiwi duo of Marcus Daniel and Daniel King Turnner on a hot and humid day at the SLTA. Rajapakse and Godamanne have thus given Sri Lanka a lifeline and losing the first two singles on day one to the Kiwis.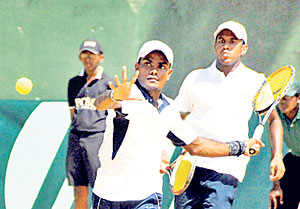 Lankan duo Rajeev Rajapakse and Harshana Godamanne in action yesterday. (Pic by Sanka Vidanagama)
Non-playing Captain of the Sri Lankan team Aasiri Iddamalgoda speaking to the Sunday Times was understandably overjoyed about Sri Lanka's victory. He said: "It is indeed a huge morale booster to win the tie in straight sets. We are confident about the reverse singles which will be played today. We were desperately unlucky on Friday. Had Harshana (Godamanne) not got cramps he may have beaten Jose Statham. And Rajeev (Rajapakse) has the game to beat Statham as does Godamanne when he faces King-Turner. The surface here also helped us a lot."
Sri Lanka's intentions were clear from the word go. Godamanne together with Rajapakse broke the Kiwis serve to lead by one game to nil. The Kiwis broke right back. And thus the ding-dong battle began. The sparse but vocal crowd was cheering every point scored by the Lankans. It was very noticeable that both teams were struggling to get their respective first serves in. After going down by three games to one the Lankans began to get their act together. The home team went into the lead by five games to three before allowing the Kiwis back into game and forcing the first set to go in to a tie-break. By then the Lankan duo were pumped up and took the tie-break and first set. Godamanne and Rajapakse seemed to go up into another gear from the second set onwards.
The Lankan duo never took their foot off the gas and while the first set lasted for nearly an hour the next two sets combined lasted for less than an hour and a half.