So it was not the Plum or even the runner up trophy! Not even the third place! Sri Lanka despite many expectations and hard work was a sorry fourth in the Youth World Cup of 2010 in New Zealand. Reaching the Semi-Final stage after a lapse of almost ten years, the Lankans one felt had just flattered to deceive. Maybe very strong words but I am afraid that's the truth.

One felt that despite the loss to Australia in the Semi-Final the Sri Lankans played a superb game. After being reduced to some forty for five to get to two hundred plus was a testimony to the fighting qualities. Then the manner the bowlers responded to the challenge was unbelievable! Skipper Peries and the tall Jayampathi who seems to be looking so much like another former Sri Lankan star Nuwan Zoysa was simply fantastic. But one felt that there were two issues which were questionable in the game itself. Firstly the decision to bat first was baffling. It is true that we are thousands of kilometer's away in New Zealand and there are experts on the ground, but the conditions weren't good to bat and was ideal for the Australian pace attack. Secondly the use of so many bowlers when some of the main players were ignored! The glaring example is the under use of the Matale and Peterite fast bowler Lahiru Jayaratne. I thought he had a poor first over but the manner he bowled in the second spell was impressive. He was easily the quickest of the Lankan pace trio clocking almost 137kmp! When he was brought back it was too late though he did look menacing and bowled some great deliveries to try to get back the initiative.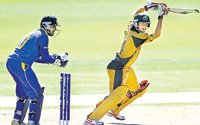 Australia's Tom Triffitt punches one during his match winnings of 50 against Sri Lanka in the semi-final.
I also felt that skipper Peries was a bit too defensive with his field placing and the usage of bowlers. It appeared he was keener to contain the run scoring than go for wickets. It was visible in the fact that he was quite content to use part time bowlers than bring on his strike bowlers even after the part timer had got him the break through.

After the loss in the Semi-Final it was expected that Sri Lanka would beat the West Indies to be placed third, but the manner the young West Indian batting smashed the Sri Lankan attack have raised many eyebrows and posed new questions! And one of those questions is why the exciting leg spinner Suranga Rajaguru who had very respectable figures of 2/41 in ten overs was not played against the Australians who are always good against pace? There could be many arguments such as the balancing of the side, the condition of the pitch etc. however one cannot substitute quality for any one of this. And Rajaguru should have been an automatic choice all the time. Even in the game against the West Indies it was Rajaguru who commanded the most respect other than the skipper Chathura Peries who is a definite star for Sri Lanka on the horizon!

So a great opportunity to reign supreme at the U 19 level has been lost. Mind you this is with such great personalities of the calibre of Aravinda De Silva, Naveed Nawaz and Upul Chandana at the helm. I take nothing away from their contributions though in real terms the entire team is responsible for what they achieve positive or negative, which is a fact of life.

On the subject of teams and achievements I believe a special mention has to be made of the current Interim Committee for some of the bold decisions they took. It is no coincidence that D S De Silva was the Coach of the U 19 team when it last reached the semi-final and ended runner up to India in 2000. I am sure De Silva himself would have been hands on, in the decision making process which included the picking of experts in the coaching and management staff. On the subject of picking coaches once again Sri Lanka Cricket should be commended for deciding to use the top Premier Club coaches to be in charge of the Provincial teams. Mahesh Weerasinghe of Chilaw Marians the current Premier Champions is one of the men who has done his bit behind the scene winning many plums for the club. The recognition of his services to the game by appointing him as the Coach of Ruhuna along with former Sri Lanka cricketers Lanka De Silva and Avishka Gunawardane are definite steps in the right direction.
Back to the U.19 side let's not forget that there are some outstanding young cricketers In the line up. Surely the future Jayasuriyas, Jayewardenes and Sangakkaras as well as Dilshans are all there! Bhanuka Rajapakse, Chathura Peries, Rumesh Buddika, Saranga Rajaguru and Charith Jayampathi are some of them.

Roshan Abeysinghe is a leading cricket promoter and an international cricket commentator