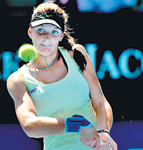 Czech tennis player Karolina Pliskova plays a backhand return during the girl's singles final match against British opponent Laura Robson at the Australian...
MELBOURNE, Jan 30, 2010 (AFP) - Czech sixth seed Karolina Pliskova scored some family revenge when she ended British hopes of a girls' singles title at the Australian Open on Saturday by beating Laura Robson in the final.

The unseeded Robson, 15, beat Pliskova's twin sister, Kristyna, in the semi-finals but had no answer to the higher-ranked 18-year-old Karolina, crashing 6-1, 7-6 (7/5).

Nevertheless, junior Wimbledon champion Robson has been hailed by the likes of Australian Open finalist Andy Murray and world number five Elena Dementieva as a player of rare talent, and her future appears rosy.