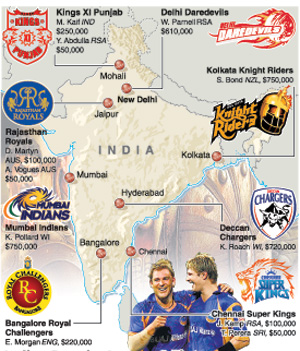 KARACHI: Pakistan's cricket authorities on Friday revoked certificates allowing the country's cricketers to participate in the Indian Premier League, after none of the players were selected in an alleged snub.
"Pakistan Cricket Board announces, for clarification purposes, that all NOCs (no objection certificates) issued to Pakistani players for their participation in the Indian Premier League stand revoked," said a release by the PCB.

"In the future, if any player receives an invitation for participation in IPL events, PCB will decide the matter on a case to case basis after consulting the relevant government authorities."

The announcement came two days after all-rounder Abdul Razzaq claimed he had received an invitation to play in the IPL's third edition in March-April this year, after no Pakistani player was bought in a January 19 IPL auction.

The failure of any of Pakistan's 11 players to make the teams prompted sports figures and some politicians to claim it was a deliberate snub by arch-rival India, and the sports minister made a formal complaint.

The PCB chairman last week said no Pakistani player will be allowed to feature in the IPL after the disastrous auction.

The omission triggered widespread protests in Pakistan with effigies of IPL chief Lalit Modi burnt on the streets of Lahore amid condemnation from politicians and threats of boycotts from other Pakistani sports teams.

Hopes of Pakistani players' future inclusion in the lucrative IPL's third season were raised, however, when Indian home minister P. Chidambaram showed disappointment over the players' exclusion.
"I think it is a disservice to cricket that some of these players were not picked," Chidambaram said earlier this week.

"I don't know why the IPL teams acted in the manner they acted. But certainly to suggest that there was a hint or nudge from the government is completely untrue." Modi also said he hoped Pakistani players may return to the IPL.

"Some teams have still not finalized their quota of players and some players can still drop out. In that case, franchises can choose Pakistani players as replacements," Modi was quoted as saying in Indian media.

Eleven Pakistani players featured in the IPL's first edition in 2008.

Pakistan's government barred the players from competing in the IPL's second edition in 2009 following increased tension between the two countries after New Delhi blamed the November 2008 attacks in Mumbai on Pakistan- AFP

The PCB revocation of NOCs (no objection certificates) comes after an alleged snub by the IPL of Pakistani players triggered widespread protests in the country.