WELLINGTON, Jan 30, 2010 (AFP) - New Zealand ended a three-month global search for a national cricket coach Saturday with the appointment of former local Test batsman Mark Greatbatch.
The 46-year-old replaces Andy Moles who stepped down as Blackcaps coach last October amid player appeals for his dismissal.

Captain Daniel Vettori who acted as coach in last month's series against Pakistan and in preparation for the Bangladesh tour which starts next week will also retain a high-level role, New Zealand Cricket (NZC) said.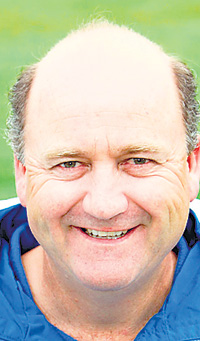 Mark Greatbatch
"We have put a great deal of thought, and consulted widely, about how we progress the current Blackcaps unit, without upsetting the current leadership momentum within the team," NZC chief executive Justin Vaughan said.

Vaughan did not release the names of others under consideration for the coaching position but said they had "considered the credentials of a number of high-profile international options." Greatbatch, who played 41 Tests for New Zealand, will also continue his role as a Blackcaps selector while Vettori will continue his involvement in team selection, tactics and strategy.

"Over the past 12 months the Blackcaps team, under the captaincy of Daniel Vettori, has made significant advances in terms of developing a culture of individual accountability," Vaughan said.

"I know Mark is strongly supportive of the way the team has progressed and will complement Daniel well." The Greatbatch announcement came a day after New Zealand Cricket said Ross Taylor would step in as captain should Vettori be unable to lead the side during the upcoming series against Bangladesh and Australia.

The role was previously filled by wicketkeeper Brendon McCullum.