By Rangi Akbar

The strongest teams India, Pakistan, Sri Lanka and Afghanistan have been grouped together whilst weak teams such as Nepal, Bangladesh and the Maldives are in the other group, lamented Sarath Pingamage, the Manager of the Sri Lanka Basketball Team for the 11th SAF Games in Bangladesh. The Sri Lanka team led by Jagath Kulatunga of David Pieris and Co. took wing to Dhaka on Thursday.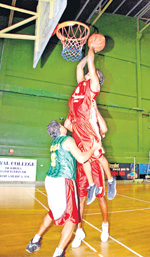 The basketball players at a practice session at the Royal College Complex.
Pingamage is a senior national basketball coach and secretary of the Kandy District Basketball Association, Kandy District Basketball Coach and Senior Treasurer of the Sri Lanka Basketball Federation.

Ajith Kuruppu, who will accompany the team as the coach, has high hopes that the team will do well in Dhaka. "We have been training dedicatedly and we have just been putting the finishing touches," he said. Ajith has been having a string of successes as a cager coach especially with the St. Joseph's College Nugegoda basketball team, which has been in the forefront of several competitions.

According to Kuruppu basketball was last held as a competition game at the SAF Games in 1995 and since then they have not held the sport and it will be a tough challenge in overcoming the efforts of the other teams in this powerful group. "Nevertheless I have every confidence in my team," said Kuruppu.
Basketball is a fast, exciting entertaining sport which was invented in the United States in 1891 and has graduated into one of the world's most popular indoor sports. It requires teamwork, quick reactions and tall players have an advantage because they can reach closer to the basket or above other players to shoot and retrieve the ball on the rebound. Smaller players also make contributions to the teams as shooters, ball handlers and dribblers.

The youngest member of the Sri Lanka basketball team is Shenal Dias, the 18-year-old St. Peter's College schoolboy who will be the Deputy Skipper of the St. Peter's College rugby team this year. Shenal is tall and powerful and gave me a wringing hand shake when I ventured out to wish him well.
Skipper Jagath Kulatunga has strict control of his tall and hefty players.

The Sri Lanka basketball team for the SAF Games flanked by Coach Ajith Kuruppu and Manager Sarath Pingamage.


The Sri Lanka cager squad for the 11th SAF Games is as follows: Jagath Kulatunga (David Pieris and Co. Captain), Shenal Dias (St. Peter's College), Duke Rajapakse (Dialog), Randira Sanyarachchi (Union Assurance), Chamath Serasinghe (DFCC Bank), Siddath Senanayake and Prageeth Pushpakumara (NTB Bank), Chamath Gangahewa, Mithila Abeysekera (Sampath Bank), Rohan Fernando (Hatton National Bank) and Dishan Willie (Kings Church).

Sri Lanka's last major overseas assignment was in July last year when they took part in the Asian Championships in China where Sri Lanka finished in 12th position.
(Pix by M.D. Nissanka)