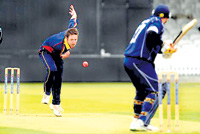 MELBOURNE: Cricket Australia is all set to announce a trial of pink, yellow, lime green and white balls in order to bring a revolution by hosting

The last round of the interstate under-23 Futures League will be the scene for next month's trial to try to find the most visible ball to replicate the red one in use today in Test cricket.

In a bid to lure more spectators through the turnstiles and beef up television ratings, Cricket Australia boss James Sutherland is a strong supporter of the move to have day-night Test cricket, The Courier Mail reports. Sutherland has personally ordered the trial of the different coloured balls in the Futures League, with the details being fine-tuned last night and set to be announced on Monday.

CA Cricket Operations manager and the former Victorian batsman, Geoff Allardice, will oversee the project, with some Futures League games potentially played in twilight or at night. ANI,

The balls may first be put on trial primarily in daytime conditions. Since International Cricket Council boss David Morgan recently claimed that there will be day-night Test cricket within two years, the race has become more urgent to develop a ball for use at night. The major stumbling block remains finding a coloured ball that players can see under lights.

It had been thought the pink Kookaburra ball was most favoured, but CA is known to be just as keen to see if the yellow, lime green and white balls could be appropriate.