PHILADELPHIA, Pennsylvania, Jan 29, 2010 (AFP) - Kobe Bryant's return to his hometown of Philadelphia gave 76ers fans plenty of chances to boo him as he led the Los Angeles Lakers to a 99-91 NBA victory.
Bryant, who was born in Philly and attended high school here, scored 24 points as Sixers fans jeered but jockeyed for position to take his photo.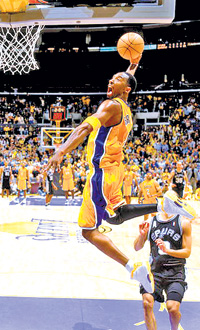 Kobe Bryant in action
"It was a like a trip down memory lane for me," Bryant said. "It was exciting."

Bryant led Lower Merion High School to a state championship in 1996 and visited his old school on Thursday.

He said this was the first year he'd felt chills when he was introduced from Lower Merion High.
"I think because when you get older, you get more and more nostalgic," said Bryant, 31. "You start reminiscing on where everything started. It kind of creeps in on you."

Philadelphia's Allen Iverson scored a season-high 23 points to lead the Sixers effort.

The two let their teammates carry the load in the first half, scoring two points apiece.

Bryan set the tone early in the third, however, when he caught the first pass and drained a shot.

After a brief scare when Bryant banged his knee in clash with Elton Brand, Bryant continued to show his Most Valuable Player credentials.

Bryant scored 14 points in the third as Iverson, a former MVP, did what he could with 15 points in the third.
But the Lakers managed to build a 16-point lead to put themselves in charge in the final quarter.

Iverson said he was focused on trying to win the game, not concerned with outdueling Bryant.

"It's evident that he is one of the best ever to do it," Iverson said. "He goes out there night in and night out and plays the same way every night."