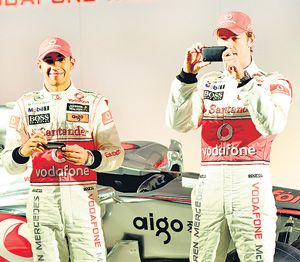 British Formula One drivers Jenson Button (R) and Lewis Hamilton use their telephones to take pictures of photographers during the launch of the McLaren Mercedes MP4-25 Formula 1 racing car at the Vodafone headquarters in Newbury, on January 29, 2010. AFP
NEWBURY, England, Jan 29, 2010 (AFP) - Lewis Hamilton and Jenson Button swapped jokes in a public show of unity as they attended Formula One team McLaren's unveiling of their car for the 2010 season.
The two drivers were impressed with the look of the new MP4-25 but admitted they would not really know whether they have a car capable of winning the world championship until testing gets underway in Valencia next week.

Button, who won the drivers' championship with Brawn GP last year before defecting to McLaren, said: "I must say it looks pretty impressive.

"I can't wait to take a step back and have a better look, but this team always puts a car together properly, meticulously.

"We've seen all the numbers, been in the simulator, and it looks positive, but the real work begins on Monday in Valencia with the first test." Button and 2008 champion Hamilton have teamed up at McLaren in the first pairing of drivers' champions since Ayrton Senna and Alain Prost raced for the same team in 1989.There have been plenty of predictions that the relationship between the two drivers will be just as volatile and, despite a carefully-orchestrated display of unity, Hamilton was unable to avoid underlining that he is a long-standing fixture at McLaren.Voicing his delight with the new car, Hamilton said: "It looks completely different, and I feel very proud because I've had some input into this car." Having struggled in the first half of last season as Button built up a commanding lead in the rankings, Hamilton added.
Button added with a smile: "I hope so too!" Button's car will have the number one on it in recognition of his current status as the world champion, but there is little doubt that Hamilton remains top dog at the team. According to media reports, his annual salary of around 12 million pounds is twice as much as Button is earning following his move from Brawn.

Although world champions have raced together before, the Hamilton and Button combination represents the first time a team has started a new season with the two most recent winners of the drivers' title.
"To be in the same team, it's a really great partnership, a great team," Hamilton said. "It should be special." Team principal Martin Whitmarsh voiced confidence that the new car would give Button and Hamilton a great chance of success.

"It was Alexander Graham Bell, the inventor of the telephone, who said preparation is the key to success," Whitmarsh said. "In keeping with that, we have prepared for this season more than ever before. This car is the basis of thousands of man hours.

"But a car is nothing without good drivers, and we are thrilled this year to have the last two world champions in Jenson and Lewis representing us on the track. As two honest and strong team players, we expect an exciting season within our team.

"We are all excited about the 2010 season: our goal is clear, and we aim to win."