By David Stephens

Sustaining the development of any sport in Afghanistan, a country buried in political instability and a terrorist insurgency, is an extremely daunting task, more so for a sport such as cricket, which is relatively new to the nation. It is perhaps for this reason that the aggressive and competent style of cricket displayed by the Afghans is all the more admirable.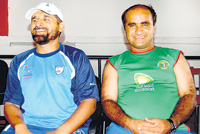 Kabir Khan Head Coach, Thaj Malik Asst Coach
In their game against the Sri Lanka 'A' team at the P Sara Stadium, while chasing a score of 314, the Afghans managed to pound off 280 runs while losing 9 wickets in their 50 overs . The is a significant achievement when taking into account that the Sri Lankan A side sported national and domestic level talent such as Farveez Maharoof, Mahela Udawatte, Tharanga Paranavithana, Kaushal Silva, Dimuth Karunaratne and Chamara Kapugedara to name a few.

Preceding this match Afghanistan recorded a 7 wicket victory over Ireland at the Rangiri Dambulla Stadium. During the second innings of this 4 day match the Afghans managed to bowl out an Irish side, playing with almost all the players from the squad that upset Bangladesh at last year's T20 World Cup, for just 202 runs.

Both these solid performances show that the Afghanistan cricket team is bathed in limitless potential both in their batting and bowling departments. Eighteen year old right handed batsman Mohammad Shahzad was a standout in the matches against Ireland and Sri Lanka A. Against Ireland he scored 88 and 42 runs in the first and second innings respectively. He belted 80 runs off 72 balls against the Sri Lankans in an innings filled with five fours and four sixes.

Two other standouts within the Afghanistan batting line up are all rounder, Karim Sadiq and right hander Noor Ali. Sadiq hammered 8 fours and 3 sixes during his knock of 69 against the Sri Lankan A side while Ali played elegantly to score two consecutive half centuries in his two innings against the Irish.
During this tour of Sri Lanka, Afghanistan has also given a fair representation of its bowling talent through noteworthy bowling spells from the likes of Dawlat Ahmadzai, Mahammad Nabi, Karim Sadiq, Hameed Hasan and Samiullah Shenwari. The right armed fast medium paced Ahmadzai destroyed the Irish batting line up with a second innings five wicket haul
.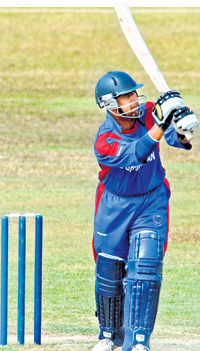 An affiliate member of the International Cricket Council since 2001, Afghanistan's cricketing successes have not just been limited to this tour of Sri Lanka. During their 2011World Cup qualifying campaign, though finishing fifth and failing to qualify, they beat Ireland and Bermuda. They also hold the honourable distinction of being the first affiliate nation in cricket to gain One Day International status.

"It is not one or two players but they are all hugely talented, very hard working and quick learners. In 11 months we moved from rank 130 to rank 13," Kabir Khan the team's Head Coach said.

Perhaps working hard and being able to adapt quickly are two habits most of the cricketers on the Afghan team would have had to utilize from a very early age owing to the ever present unrest in their country. Most of them have had to go the extra mile to indulge in their love for cricket, playing and training in a number of countries outside the borders of Afghanistan.

Afghanistan Assistant Coach Thaj Malik explains that some of the players play in clubs located in the Peshawar region in Pakistan which borders Afghanistan. At these clubs the players get the opportunity to rub shoulders with the likes of Shahid Afridi and Umar Gul. Several of the bowlers who practised at the Chennai fast bowling academy founded by legendary Australian paceman Dennis Lillee also got a chance to meet and train with Mitchell Johnson while he was there.

Off break bowler Mohammed Nabi plays for England MCC while Hamid Hasan plays first class cricket in Pakistan. Shockingly enough there are also several players who play here in Sri Lanka. This group is made up of Karim Sadiq, Dawlat Ahmadzai, Raees Ahmadzai and Shapoor Zadran.

"The facilities back home in Afghanistan are very bad, there is only one ground in Kabul It also snows in Afghanistan so it is very difficult to practice. For this tour the only practice we had was three weeks when we came to Sri Lanka," Malik revealed.

Head Coach Kabir Khan, who once played cricket for Pakistan in a team that had cricketers in the calibre of Javed Miandad, Ijaz Ahmed and Saeed Anwar etc, said that right now development of cricket in Afghanistan could not be given the prominence it deserved because there are more urgent issues that the country needs to attend to. Funding for the game comes from charitable organizations, India, Pakistan and Sri Lanka.

"I appeal to the Sri Lankan Cricket Board to help our cricketers by either sending out coaches to train our players, organizing tours for our players or in whatever way that helps the development of cricket in Afghanistan," said Khan making his parting words.

Pix by Ranjith Perera