By Rangi Akbar

Beaten by Royal in the two Bradby Shield rugby encounters in 2009 and by St. Joseph's College,that too in Kandy, Trinity College Kandy are bracing themselves for a better season this year. With this in mind The Old Trinitian Rugby Scrummage (OTRS) has recruited the services of Welshman Martin Jones for an initial two year contract commencing January-1-2010.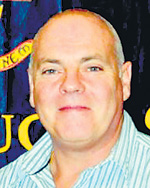 Martin Jones


Trinity was placed behind Royal and S. Thomas in the A Division competition last year. The official welcome for Martin Jones organized by the OTRS headed by its President Channa Kalugampitiya took place in the presence of a large gathering in Kandy. The Principal of Trinity Brig. Ariyaratne together with the President of the OTSC Mohan Samarakone and Secretary Izwan Omar, Saliya Udugama representing the Trinity OBA Parent Body was there to welcome the new coach.

Alex Lazarus who trained the Under 18 team to be Under 18 All Island runners up in 2009 will coach the Under 18 team this year as well. Kumar Dias Desinghe and Thusitha De Silva will be in charge of the Under 16 squad while Arun Rankothge will be in charge of the Under 14 team.

Sumith Rathnayake assisted by Deepal Punyawardene and Madugalle will be coaching the Under 12 team. Last year the Under 12 side emerged All Island runner up.

Martin Jones is a graduate from the University of Wales reading for his Masters in Coaching Science covering areas of Quantitative Research, Psychology, Coaching Process, Physiology of Rugby Performances and Management.

As a rugby player Martin Jones has played at a professional level for Southland RFU (National League Championship), Saracens RFC (County Champions) and London Welsh.

As a coach Martin is a Level Four qualified coach from Welsh Rugby Union having coached the Under 19, Under 24 and the main team of the London Welsh RFU.

He has also coached three national teams – Sweden, Nigerian and Dutch rugby teams (XV-a-side) and Sevens.

Martin worked as a Youth Development Officer for the Saracens working alongside the likes of Francois Pienaar (Springboks World Cup winners 1995 and Mark Evans – His experience covered areas of recruitment, talent identification, coach education, mentoring etc.)

In 2001 Martin joined the management of London Welsh RFU as a Director Academy – Welsh Rugby Union – Dragon where his main job was to set up an elite Rugby Academy programme designed to deliver professional rugby services to rugby players. In 2004 Martin assumed duties as Director Coaching at London Welsh RFU which is currently ranked third in the Champions League. Under his tenure London Welsh RFU transformed its approach from a semi-professional sporting body and reached the highest level in the history of the Club to be ranked fourth in the National League One.

Last year Martin coached the Sri Lanka Army rugby team under the direction of Brig. Jupana Jayawardena and Saliya Udugama.