Cyber Concepts (Pvt) Ltd was recently awarded the ISO 9001:2008 Quality Management Certification by Det Norske Veritas (DNV) B.V of Netherlands, the very first Sri Lankan software and web solutions company to obtain this latest certification.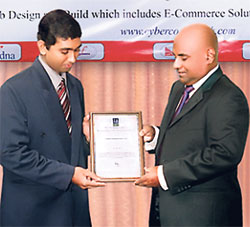 Picture shows - Ravi Rajapathirane CEO , Cyber Concepts (Pvt) Ltd (right) receiving the ISO Certificate from DNV Business Assurance Colombo Manager K. Vivekananthan.
Cyber Concepts CEO Ravi Rajapathirane, a Chartered Engineer by profession, said in a statement that the company will now further focus on developing quality software for the local industry where the distinct customisation of the product will have a greater advantage over imported software. "We will help save valuable foreign exchange by winning the confidence of the local industrialists and encouraging them to use Sri Lankan software over the more expensive foreign imports," he said.
The company's development team is led by Chief Software Architect Ms. Krishnajina Rajapathirane, a BSc. Honors graduate from the University of Colombo counting over 20 years in IT industry working in multinational companies which includes UniLever and PricewaterHouseCoopers. The team consists of young software professionals mostly graduates from Sri Lankan universities who are adept at giving customized solutions to clients and often exceeding expectations.
As part of its corporate social responsibility to the local community, Cyber Concepts affords opportunities to young local undergraduates to work in its development facility and thus gain invaluable industry experience.