Former Army Commander General Sarath Fonseka expressed optimism that nothing can be impossible if one can perform better than one's rivals, introduce new methods, new procedures, and make the difference.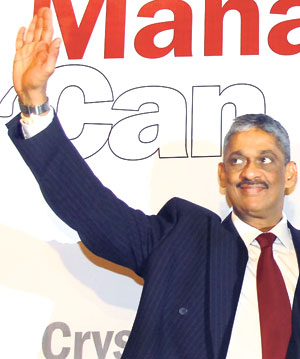 Gen. Sarath Fonseka, who is due to enter politics today, waves to the audience at this event on Tuesday. Pic by Sanka Vidanagama
The success story of the Sri Lanka Army in defeating the LTTE and eliminating terrorism from the island within two years and nine months which was thought by many as a mission impossible was based on sheer dedication commitment from the top to the bottom and the confidence of security forces kept on their experienced leadership.
Therefore this 'can do' approach of the Sri Lanka Army can be applied to business or any other venture, he said. Sarath Fonseka made these observations when he delivered the keynote address outlining the strategy behind "Achieving success with a 'Can Do' approach at the First Annual Conference of the Institute of Certified Professional Managers at Taj Samudra Hotel in Colombo on Tuesday.
He said that attacking the strongholds of the rivals and taking a difficult route to approach the enemy had contributed immensely towards the military success. Even in business one must know the strengths and weaknesses of competitors and plan strategies accordingly, he added. Proper training and due place should be given on merit to members of an institution to acquire success. He said that everyone should be treated alike without any discrimination and disciplinary action should be taken against those who commit wrongdoings. Clarifying the difference between politicians and military-men, he said: "Politicians are only talking but there is no action or results. But for military-men it is the other way round."
In conclusion, Gen. Fonseka asked, "If you become a government leader leader, what should you do to solve the nation's problems? Can you solve those problems? Can you fortify the national security? Can you establish a Police force sans political interference? Can everyone who is qualified enter university? Today, in our country only 1% enters the university system. Can the health facilities in the big towns be extended to the villages? Can you assure that every city has a good school?" Gen. Fonseka said these are the challenges facing the nation.
"We can accomplish them by eradicating corruption. We can provide the necessary health facilities, education and security to the nation," he added. The fellowship of the institute was awarded to Gen Fonseka and Dr. Ashok R. Joshi , Director of Cost and Management Studies and Research by President of the Institute Prof.Laxman R Watawala.