Tourism is the antidote to terrorism. This is according to Amitabh Kant, a veteran in India's tourism industry, having served as the Secretary of Tourism in the government of Kerala, Chairman and Managing Director of India Tourism Development Corporation (ITDC), Joint Secretary of the Ministry of Tourism in India and currently the CEO and Managing Director of the Delhi-Mumbai Industrial Corridor Development Corporation Ltd.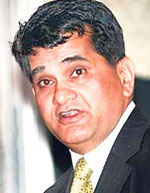 Amitabh Kant
On a visit to Sri Lanka this week to conduct country planning sessions, Mr. Kant told the Business Times that Sri Lanka should brand itself as a premium high value destination. Instead of focusing on increasing the number of tourists, Sri Lanka should be focusing on high value tourists. "I am a great believer in the value game, not the numbers game," Mr. Kant said. "By focusing on the numbers, there will be a lot of pressure on the infrastructure. The challenge for Sri Lanka should be to get the highest unit value in the world." He added that Sri Lanka is a long haul destination. Tourists visiting the island should ideally come for around 15 to 20 days and spend a lot of money.
According to Mr. Kant, Sri Lanka should focus on the quality of the experiences on the ground, rally community participation and engage aggressively in new product development. However, he stressed that Sri Lanka has to get more international carriers to start routes. "Don't be a bondage to SriLankan Airlines," he said. "International carriers are the best marketers."
Branding and Marketing
An expert on marketing and branding, Mr. Kant conceptualized and executed the positioning and branding of the state of Kerala as 'God's Own Country' and later the highly successful 'Incredible India' campaign. As India is Sri Lanka's largest market, Mr. Kant said the number of tourists from India can double in two years if marketing is enhanced. "Sri Lanka should have a strong public relations movement in India." He suggested getting experienced Indian journalists to come and write about their experiences in 'a new Sri Lanka..'
Mr. Kant said a successful tagline such as 'Incredible India', 'Uniquely Singapore' and 'Amazing Thailand' is a function of good research and good community feedback. "It should be based on scientific research." He added that these taglines should be visually innovated every year. However, he said the most successful he has seen so far has been New Zealand's '100% Pure New Zealand'.
Indian Experience
Following Kerala's 'God's Own Country' campaign, it has emerged as the premier tourism destination in India and has won several international awards and adjudged the best marketing and branding campaign. However, following the terrorist attacks in New York and Washington D.C. in the US on September 11, 2001, India's tourism industry was hit hard. After extensive research and development within its major markets, India branded and positioned itself as 'Incredible India' and launched a massive electronic, print and Internet campaign. "However, it was not only advertising. It had to go beyond advertising to public relations." The result was that India's government officials became brand ambassadors.
In order to sustain demand, Mr. Kant explained that there had to be a substantial enhancement in the quality of the products and to open up the skies to international carriers. Community participation was a large part of the campaign including the use of Bollywood actors Shah Rukh Khan and Aamir Khan. "You must work with the best creative minds and directors on the campaigns," he said. "You have to outsmart rather than outspend the competition and differentiate your product from everything else."
Mr. Kant explained that tourists are moving away from the 'sun, sand and sea' and want to experience new cultures like Sri Lanka's. "It is important that the products are uniquely branded and that the brand is kept fresh. Use new methods of marketing like Facebook and Twitter and use smart, young people to do this."
Mr. Kant said Sri Lanka has huge potential to emerge as one of the greatest destinations in the world. "Sri Lanka has a dynamic young industry and has faced so many challenges in the past," he said. "Tourism is private sector driven and there is a good and interesting structure." He said that with the economic scenario improving around the world, it should take Sri Lanka a good six months to bounce back."