Sri Lanka's plantation sector has lately been neglected by stock market investors, due to poor shareholder earnings in the recent quarter due to adjustments done over the revised wages resulting in few transactions in recent weeks, analysts said.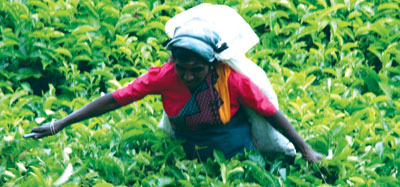 "The wage talks which saw plantation employees get wage hikes has disillusioned investors," an analyst said, adding that the output in plantation is falling due to weather, the cost, etc. He said the wage hike has wiped out a substantial amount of profits in the immediate future.
In addition although the prices have increased, the volumes are relatively low. Jaliya Wijeratne, Director Institutional Sales at SMB Securities noted that the recent wage hike of estate workers caused an impact in many plantation firms during the quarter. "This was a wage hike of around 40% agreed with labour unions, where an average worker's daily wage of Rs 290 was increased to Rs 405.
This clearly created a drastic impact on the cash flows of most plantation companies," he said, adding that currently there are many other sectors that show greater potential compared with the plantations within the market.
Charuka Suchendra, Analyst Asha Phillip Securities said that since plantation company performances have been affected due to the provisions made on gratuity and wage hikes, future profits are expected to be diluted due to wage hike adjustments. Yadhavan Jayaram, Manager Sales, Bartleet Mallory Stockbrokers said that the plantation sector was at its peak as all plantation companies made good profits a year ago, but with the western economies going into a recession it brought about the reduction in commodity prices significantly which affected the tea and rubber prices. "To add to this our supply has also reduced which is another issue.
The wage hike increased the cost of production of all companies which has resulted in poor profitability for all plantation companies," he said, adding that despite all this now is the time to buy plantation companies which have diversified into tea, rubber and other commodities. "As the western economies are recovering all commodity prices have started to increase which will benefit our tea and rubber. Of course the only concern is in the supply as there has been concern about the crop," he said.