Bashed in the media, Shell Gas this week came out strongly saying their voice was not heard and called for a proper regulatory framework and urged the government to ensure a level playing field in the LPG industry.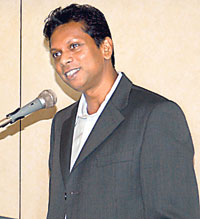 Dr Mahesha Ranasoma
"We don't have a sound industry regulatory framework for LPG that will safeguard our brand and Intellectual Property rights, enable legalized safety standards and regulations and licensing on other related industry aspects (such as LPT transport and LPG facility siting)," said Dr Mahesha Ranasoma, Shell Gas' first Sri Lankan Country Chairman and Managing Director. Addressing members of the Sunday Times Business Club (STBC) on Thursday at the Cinnamon Grand, Dr Ranasoma said the absence of a regulatory framework leads to issues where unscrupulous parties are stealing Shell cylinders and either illegally cross-filling them or completely defacing and repainting with other colours and introducing back to the market at cheaper cost.
"There are many customers including some big companies who fall prey into this 'cheaper gas' by exchanging Shell Gas branded cylinders with these unscrupulous parties who blatantly violate our intellectual property rights," he said, calling for sufficient regulatory muscle to tackle these issues. In recent weeks, Shell has been criticised for price hikes in gas, criticism which the Shell Gas Colombo chief says is unfair. "No one has asked us about the price revision. In fact the competitor (Laugfs) asked for a higher increase than us but invariably its Shell that gets bashed in the media," Dr Ranasoma said, adding that Shell officials planned to start a fresh dialogue with the media to explain their side of the story due to a lot of misunderstanding on many issues.
Dr Ranasoma is a former member of the STBC and on Thursday was felicitated by the club on his recent achievements in which his previous Shell stint was as Country Manager in Vietnam where the market is even more difficult with a total of 70 players against Sri Lanka's two. While saying that Shell Gas believes strongly in fair and free market competition which is beneficial both to the consumer and the industry, he asked, "Why is there is limited competition in the LPG business after nearly a decade of market being open and why aren't more players entering this market? He said the first issue is arbitrary price control on domestic LPG causing huge losses, which then moved to a regulated pricing mechanism which is not an industry pricing formula but is specific per company.
Secondly, even with the pricing formula agreed, the Consumer Affairs Authority (CAA) is not fully conforming to the formula and has caused a loss of margin to Shell Gas amounting to over a staggering $10 million over the past 20 months. "Having exhausted all options to find a negotiated outcome on this we were compelled to exercise the right to arbitration as allowed in the pricing formula agreement with the CAA in order to recover the losses," he added.
Another major issue is that locally produced LPG by the Ceylon Petroleum Corporation is exclusively given to Laugfs while Shell Gas has no access to this cheaper product. "The LPG produced by CPC does not attract import shipping premium and the related import taxes and therefore is comparatively lower cost versus imported product," he said, adding that if "locally produced LPG is not given equitable access to all players thus creating an uneven playing field in the market one needs to ask how a new entrant would be treated in this case."
Dr Ranasoma on a personal note shared his 'road to success' and personal achievements with members of the club recalling events during his childhood where – because his father was a public servant and often transferred – he had to go to many schools. "Rather than worry over the new environment and not being able to have long-term friends, I used this as a challenge and adjusted to the surroundings," he said, adding that his philosophy in life and business is based on 'the other way' or the 'best way' concept.
Explaining this, he said: "For example if your boss or team makes a proposal, we need to ask ourselves or the team, is there another way, a better way, a better approach, a more practical way or a more viable way. We need to constantly challenge ourselves, keep questioning until we find the right match." Asked by members to share his views on how the club helped facilitate his progress, Dr Ranasoma said: "The monthly meetings were very valuable and there was a range of diverse speakers from which many lessons could be learnt.
The networking was also good where I got an insight into how Shell was perceived by the public by asking 'subtle' questions among the membership." A former university teacher-turned-manager, Dr Ranasoma was handling operations, corporate affairs and HR at Shell when he was a STBC member.
The Sunday Times Business Club also announced its new logo at Thursday's meeting. Cinnamon Grand is the club host while Hameedia is a co-sponsor.