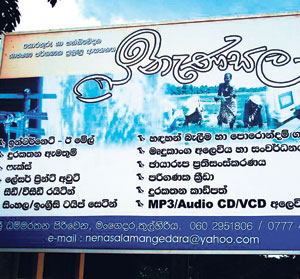 This year has been a year of celebration for the ICT Agency, the entity created to implement the eSri Lanka programme. The capping event is the big regional conference that is being held in Colombo in December. The declaration of 2009 as the Year of IT and English signified Presidential blessing. The eswabhimani awards were launched. The 1919 government information centre won an award.
What did it achieve in its originally allotted five years? It would be useful to identify criteria that may be used by the citizens of Sri Lanka to assess success and hold it accountable for the next five years. Success criteria must be related not to money spent but to results achieved in ways that citizens and stakeholders can feel. The measures would, ideally, allow comparison with other countries.
Assessing success: Exports
The tagline "smart island, smart people" indicated a wish to make Sri Lanka a more knowledge-based economy. Last year's export value study commissioned by the Export Development Board suggests that considerable progress has been made.
In 2002, the country had negligible activity in the IT enabled services sector. Today, the combined IT and IT enabled services sector is the fifth highest export earner (US$213 million in 2007). The main driver is software, which constitutes two thirds of the total value (US$154 million in 2007).
One may argue that the momentum in the software industry preceded e Sri Lanka. After all, Virtusa and Millennium IT predated e Sri Lanka. This debate can only be settled by a systematic examination of the respective contributions made by ICTA and by other factors to the software export industry.
Future of computers
The comments appearing below regarding the future of computing were expressed in e-mails to the Business Times by Mahesh Kodituwakku, a teacher at Galle's Rajapaksha Maha Vidyalaya, via Sri Lanka's Ministry of Education WAN network, SchoolNet, which, according to its website, connects "most of the senior secondary schools" island-wide, including 1,000 schools, 100 computer resource centres, 17 National Colleges of Education and 8 provincial ICT centres as well as their respective zonal and provincial education authorities.
While Mr. Kodituwakku's comments were amended for clarity's sake, every effort was made to ensure his content remained the same. One wonders whether; in times past, and before technology became accessible in even the remotest parts of the country; opinions of front-line teachers like Mr. Kodituwakku would ever have been accessible to such a wide audience:
Computers
Computers are devices that have developed very fast in the last two decade. No other device has developed faster than them. In the next two decades, they will develop even faster. In 10 to 15 year's time, core processor technology will change in speed and accuracy.
Size
Desktop computers will end their journey in the next few years because busy lifestyles will never meet with Desktop PC's. Smaller mobile computers will come to the market in the next few years. On the other hand, e-learning, M-learning and U-learning (ubiquitous learning) will be the learning concepts for the next generation.
Speed
Speed will increase very fast in the next decade of computing. By 2029, mobile computer speeds may be similar to today's fastest supercomputers.
Operating systems
The Operating System (OS) will be the key for next generation computers. By the next decade, most will use free and open source OS. In my view, Google Chrome OS will be popular. As well as open source OS, many will also use Web OS in near future.
Application software
Most will use Web-based online application software for their daily needs with most of the online software being free. But software companies will earn money thought the online advertising.
Computer ports
Today computer ports help to connect various peripheral devices into the computer. When we look at the present we can find that some of the ports are changed and some of them will disappear from the computers. Today you can't see printer ports (parallel ports) and as well as PS/2 Port in many notebooks. Many devices use USB Ports to connect to the system unit because it's very fast.
Today many notebooks have built-in Infrared and Bluetooth facilities, people can connect various devices using Bluetooth. They can also build a PAN (personal area network) without using any guided media. They don't need any ports to connect devices to their notebooks because Bluetooth changed everything. We can imagine that, in the next 10 or 20 years, wireless technology will develop very fast. I hope new wireless technologies will come in the near future. It can be better than Bluetooth. We can imagine that by 2029 or later people won't need any ports for their computers.
Sri Lanka is now a rising player in the worldwide BPO industry. This is undoubtedly related to e Sri Lanka and the incomplete liberalization of the international gateways in telecom in 2003, giving the BPO firms a choice among suppliers and media.
Despite the war, the BPO industry has grown, and grown in the right way. We have more or less avoided the entry-level call-centre business and capitalized on Sri Lanka's strength in accounting and other professions. Only 15 % of the IT enabled sector is voice only, with over 70 % being data only and the rest being voice plus data.
More can be done to address the infrastructure constraints of energy and public transportation, but clearly the growth of the IT enabled industry is something ICTA can take satisfaction in. The rise in the AT Kearney BPO rankings from 29th in 2007 to 16th in 2009 shows real progress.
Assessing success: egovt
The government was central to the design of e Sri Lanka. The hope was that many things would flow from the delivery of government services to all citizens (and those in the Diaspora) irrespective of where they lived. First and foremost, it would help re-engineer government business processes, increasing efficiency and offering new services and functionalities. At the same time, satisfying the preconditions for countrywide delivery of e government services would necessarily satisfy the preconditions for e commerce.
There are clear success stories, like the Department of Immigration and Emigration, issuing more passports in one day than the Department of Registration of Persons issues National Identity Cards. 1919 has been justly given recognition. Where but at 1919 can a citizen obtain government services in all three official languages from courteous people? But 1919 continues to be a rudimentary e government service, limited to providing information and not adding features that would allow more functions to be completed on the phone itself.
However, the big picture is not too good, particularly for the country that poured millions into e gov. Sri Lanka has slipped in the UN e government rankings from 94th place in 2005 to 101st place in 2008.
Five years of work has made no discernible impact on improving the overall efficiency of government services. The approximately 3,000 calls received a day by 1919 is miniscule in relation to the calls received by the 311 service in New York City which receives 50,000 calls a day on average when you consider that 1919 is serving 20 million people, and New York City government possibly less.
Assessing success: esociety
Here, the focus was on a challenge fund that would encourage decentralized innovation. Grants have been given and many pilot projects implemented. The real test, of course, is what has been scaled up on a sustainable basis.
Assessing success:
Electronic connectivity
Two Regional Telecom Networks (RTN) were planned in 2003, one for the deep South, a fiber optic ring with Hambantota as the furthest point, and one for the North East, a fiber cable that would connect Anuradhapura and Trincomalee to the fiber ring that a that point went only up to Kurunegala and Matale.
The RTNs did not materialize, but the places that were to be connected with fiber are today so connected. Getting the intended result without spending public funds could be chalked up as a success. All that remains is to ensure that all operators can use the fiber that has been laid on a cost-oriented and non-discriminatory basis. This is something that only the Telecom Regulatory Commission can do, so ICTA is shielded from blame.
Sinhala, Tamil domains from December 7
From December 7 onwards, people will be able to register domain names with the ".lanka" (in Sinhala) and the ".illange" (in Tamil) suffixes as opposed to the current scenario where they can only register domain names under the almost 20 years old ".lk" domain, the only country designation currently on offer, according to Prof. Gihan Dias, the head of LK Domain Registry, the organisation charged with offering these Sri Lanka specific domains.
This was revealed at a recent, inaugural edition of "Most Favourite Sri Lanka Website" awards, a competition organised by LK Domain Registry with the objective of promoting locally based websites and ultimately raising the number of LK Domain Registry subscribers.
Winners in the eight categories making up these inaugural awards included www.elakiri.lk and www.music.lk (joint winners in the English category), www.worldpeople.lk (Sinhala category), www.parliament.lk (Tamil and Government categories), www.odel.lk (e-Commerce and Best Design & Content categories), www.films.lk (Entertainment category), and Affno (Best Developer). Other websites showcased over the course of the evening included www.airforce.lk, www.news.lk, www.keellssuper.lk, www.singersl.lk, www.derana.lk, www.hitzbox.lk, www.lankapuvath.lk/sinhala, www.myblog.lk, www.nimnaya.lk, www.adaderana.lk, www.enews.lk and www.railwaymuseum.lk. A full list of websites recognised at the awards is available online at www.bestweb.lk.(JH)
There are many, many telecenters. Contrary to the original plan that would have limited them to rural and underserved areas, they can be found in the middle of cities like Kandy and Anuradhapura. The original plan was to transparently select people who had experience in running businesses. This was abandoned after the first round. The end result is the proliferation of unsustainable telecenters that are already going bust.
But more people than ever are connected to the Internet today, not through government subsidized telecenters, but through the competition-driven proliferation of fixed and mobile broadband, enabled, of course, by the issuance of the required frequencies by the TRC.
Assessing success: Overall
My guess is that we would not be where we are today if not for e Sri Lanka. A full assessment is needed to see if we have come as far as we could have come.
Sri Lanka has risen nine places in the World Economic Forum's Network Readiness Index (70th place in relation to the countries assessed in 2007; was 79th in 2007-08). Sri Lanka has done well in the NRI since its inclusion in 2001-02. Starting from the 9th decile, it has worked its way up to the 6th decile by 2008-09, which suggests that there has been a distinct improvement in how Sri Lanka is perceived in relation to ICTs since e Sri Lanka began.
The NRI uses soft data such as perceptions of influential actors from surveys (60 percent) as well as hard data, obtained from multiple sources including governments (40 percent), and has lower coverage. By contrast, the ITU's ICT Development Index (IDI) uses hard data only and covers a larger number of countries; within South Asia, the only country excluded is Afghanistan. The ITU assesses the 2002-2007 period, more or less corresponding to ICTA's lifespan (2003-2008).
Sri Lanka has slipped three places in the IDI (97 in 2002 to 100 in 2007). We have been displaced by Azerbaijan, Vietnam and Algeria. Among our SAARC peers, we still hold second place behind the Maldives' which has increased its lead from 9 places in 2002 to 29 in 2007.
Vietnam's prowess is also confirmed by the NRI: included in the surveys since 2001-02 along with Sri Lanka, it has advanced from the 10th decile to the 6th decile of the countries studied, far exceeding Sri Lanka's progress.
Sri Lanka has progressed, but not enough to improve, or even maintain, our standing relative to other countries. Equipped as we were with a large World Bank credit and an exemplary implementing organization under the President's Office, we should have been sprinting. Instead, we had been ambling. "Ideas actioned" is ICTA's tagline. If the results are not good enough, something must be wrong with the ideas, the actions, or the actors. It is worth finding out which.
(The writer is an expert on the telecommunication sector and has worked here and abroad)